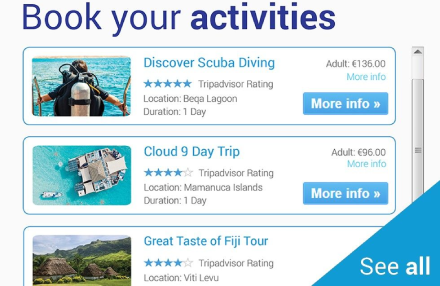 Fiji Diving - Scuba and Snorkeling
Fiji is known as "The Soft Coral Capital of the World" and is home to the "Great Astrolabe Reef". When the current flows the corals bloom into fabulous displays of colorful splendor and you can find around 1000 species of fish and hundreds of sponges and corals spread out over 4000 square kilometers of reef. Currents are the lifeblood of Fiji's reefs, kick-starting the food chain by sweeping nutrients to both corals and fish alike. There are several places which are perfect for beginners and others that will even amaze the most experienced diver. Most of the diving is conducted from boats and the shorelines are great for adults and children alike to go snorkeling and swimming.
The winter months of April to October represent the main season for scuba diving in Fiji, although the visibility peaks between the months of July and December. Run-off from the rivers can reduce the otherwise excellent visibility, particularly on dive sites off the coast of Viti Levu. Book and explore the underwater wonders now!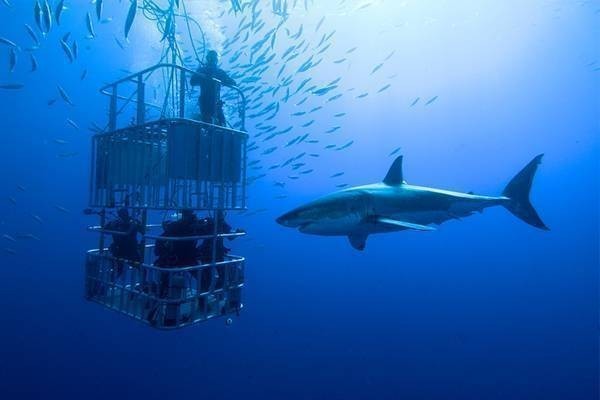 Throughout the 12 Yasawa Islands you will find a wide range of diving spots. You can often snorkel or dive right off the beach, however if you are looking for some real action like sharks and manta rays you will have to take a boat to the reefs a bit further out to go for a snorkel or dive. Check out everything that diving in the Yasawa Islands has to offer by clicking below.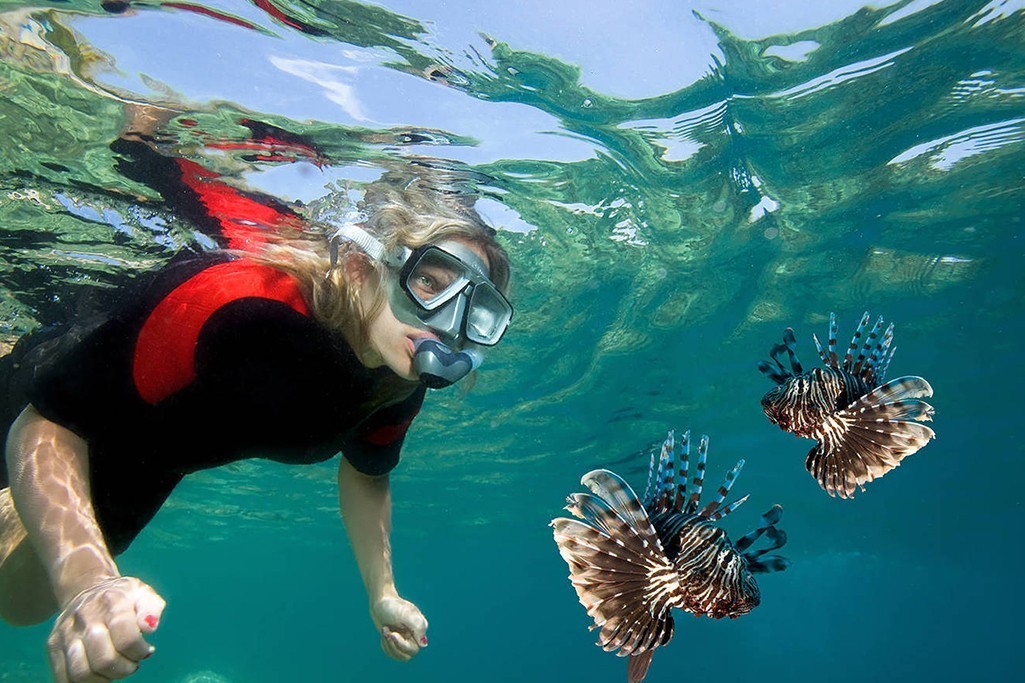 The marine life within the Mamanuca islands is absolutely stunning. Consisting of 13 volcanic islands and surrounded by the Malolo Barrier Reef you will be able to find wrecks, reefs, walls and swim-throughs right at your doorstep. Click the button below to read more about diving in the Mamanuca Islands.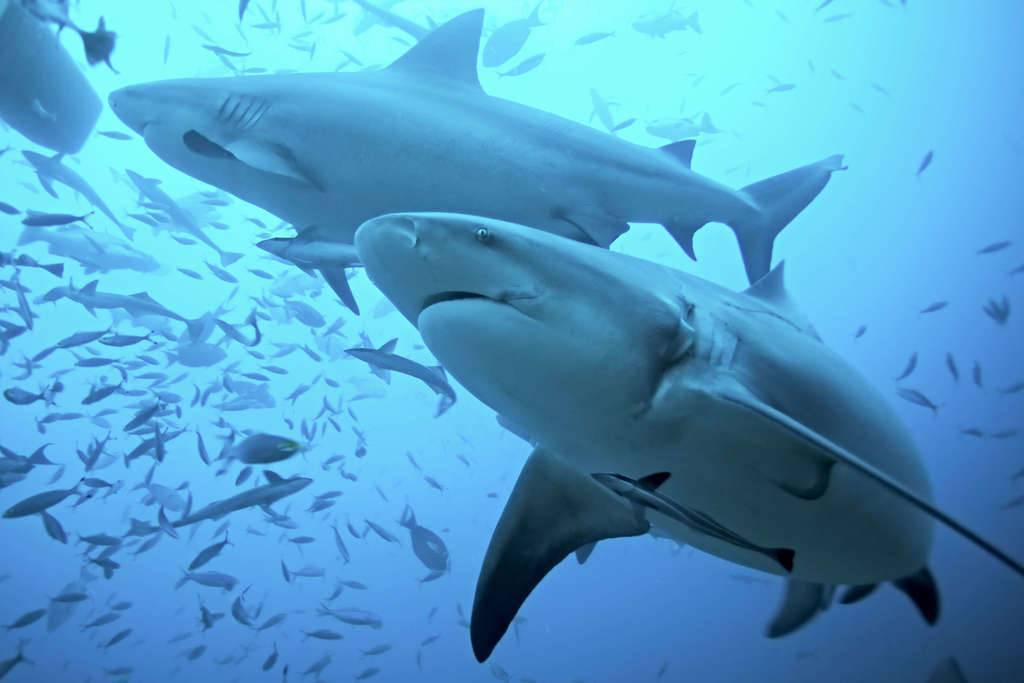 Within Beqa you will find one of the world's largest barrier reefs where divers will find the true beauty of diving within Fiji. There are several dive sites throughout Beqa with stunning colorful reefs and if you are lucky you could even see 8 different species of sharks. Click the link below to learn more about diving in Beqa.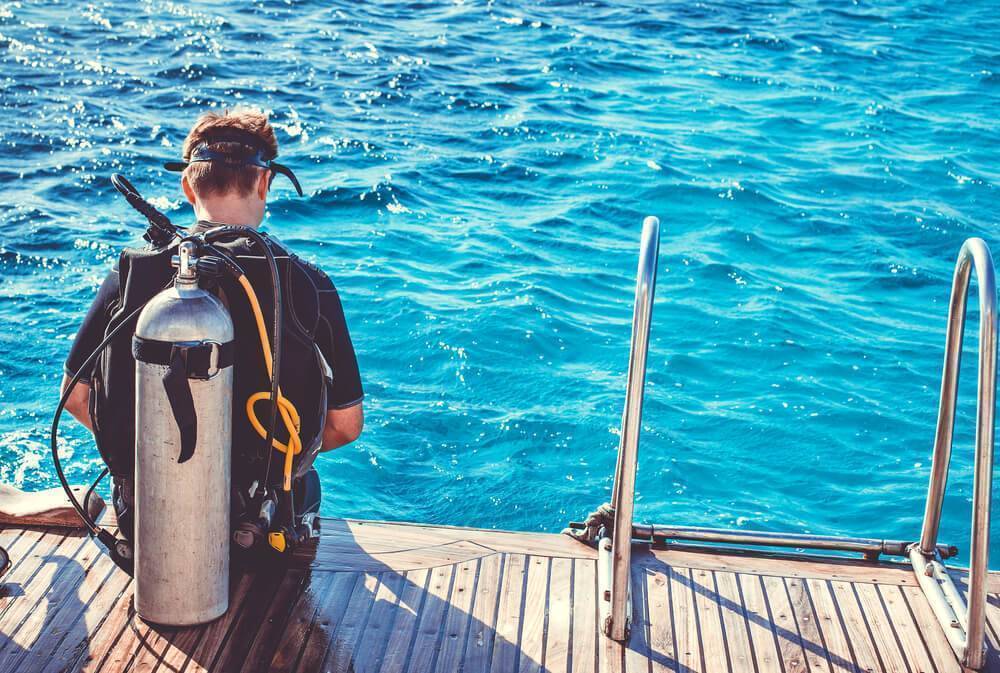 Taveuni has a rainbow colored reef which has a constant water temperature all year round. You will find the great white wall here which is covered in soft corals which attracts a vast array of marine life all year long. Taveuni is a perfect spot to get your PADI or to advance to a next level. Find out more about diving in Taveuni by clicking below.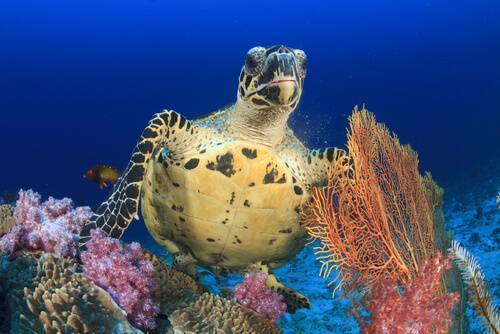 Being the second largest island in Fiji there are many diving sports to find around Vanua Levu. With the Namena Marine Reserve covering 70km you will be sure to find soft corals, caves, walls and great marine life. Click the button below to find out more about diving in Vanua Levu.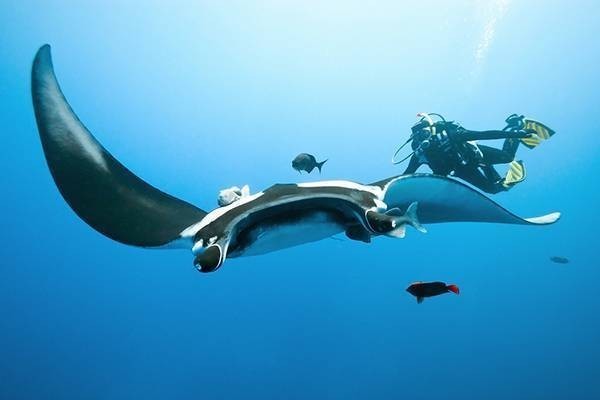 Within Kadavu you will find the Great Astrolabe Reef which is well known amongst divers across the world. With stunning passages, soft corals and stunning marine life Kadavu will not leave you unsatisfied. To find out more about diving in Kadavu, you can click the button below.
General Stats
Dive sites: >150
Water temperature: between 28 and 30°C
Average depth: 5 - 40 meter
Visibility: 15-40 meter
Current: None to very strong
Experience level: Beginner - Advanced
Surface conditions: Mostly calm
Wetsuit: 5mm or 3mm full length wetsuit
Marine life: Grey, black and white tip reef sharks, schooling baracuda, trevally, tuna, manta rays as well as whales.
Duration: The dive season is all year round, visibility peaks between July - December.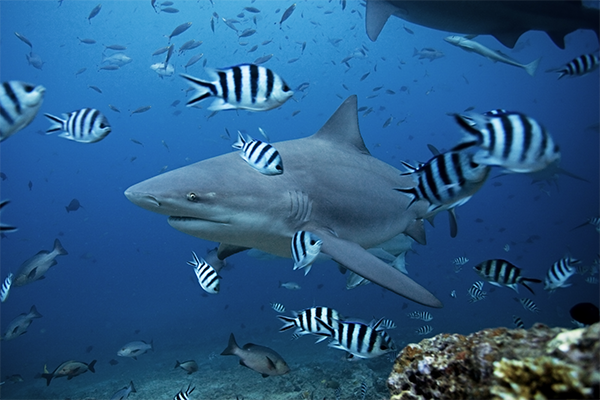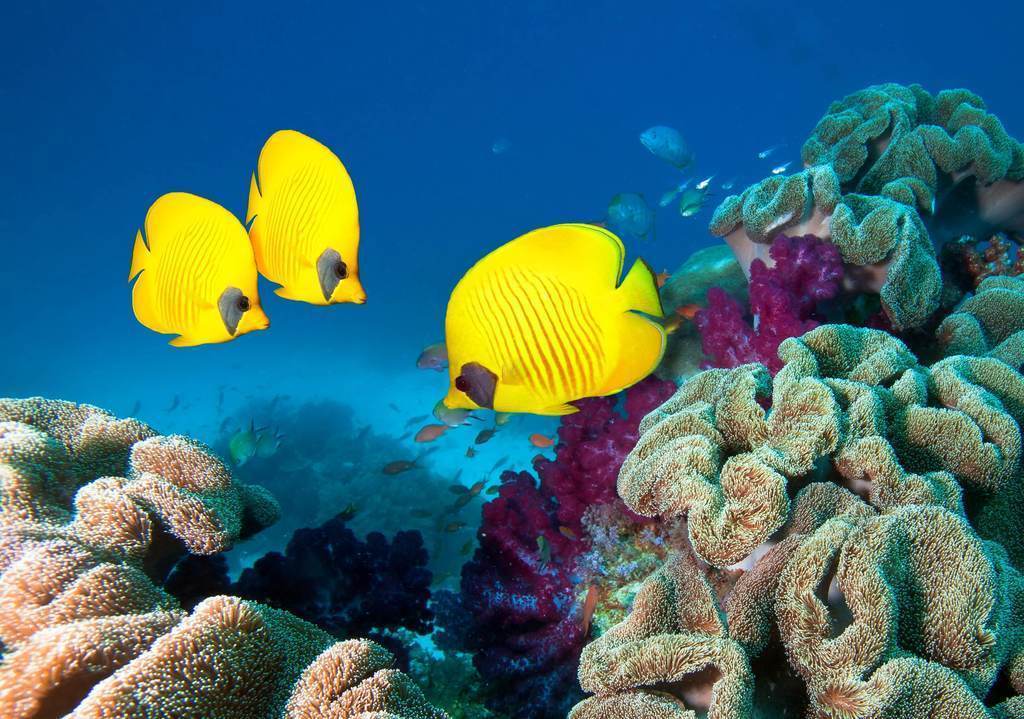 Diving Mamanuca
Mamanuca islands are one of the most popular destinations between divers. There are several famous diving sites near Mamanuca including: American Boomer, which is decorated with the soft and hard corals and has colorful marine life. Other popular sites include: Super Market (shark encounter), Gotham City, the big W's, Castaway Passage, the Big Blue, Bird Rock, Coral Gardens and the Pinnacles. The diving site ranges from 9-30 meters depth. The visibility is between 20 and 40 meters and water temperature is around 26 degrees during winter and 31 degrees in summer. You can book your diving activity here.
Diving Vanua Levu
Vanua Levu is a place where the Namena Marine Reserve is located which is full of healthy corals and big fishes. There are only a few areas in Fiji that are protected. The diving places in Vanua Levu are: Dream House (famous for sharks), Purple Garden, Dreadlocks, Dungeons and Dragons.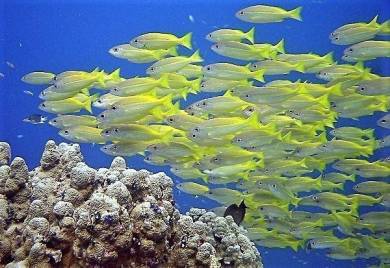 Diving Beqa Lagoon
If you want to dive with sharks, head to Beqa Lagoon. You will have an opportunity to dive with eight different shark species, including: whitetip and Blacktip reef sharks, gray and silver tip sharks, sicklefin lemon shark, tawny nurse shark, bull and occasional tiger shark. Also, you can expect to see the rainbow runners, eagle rays and many different tropical fishes. Most popular dive sites in near Beqa Lagoon include: Caesar's Rock, Carpet cove, Fantasea, Seven Sisters, the Pinnacle and the Three Nuns. You can dive in Beqa Lagoon all year around because the water temperature is warm and visibility is good. If you wish to see tuna, the best time is in June, while February is the best time to admire barracuda's. Explore diving with sharks here.
Diving Kadavu
Kadavu is located offshore the Pacific harbor, which is widely known among divers. The most popular diving spots are Broken Stoke, Eagle Rock, Naiqoro passage and Yellow Rock.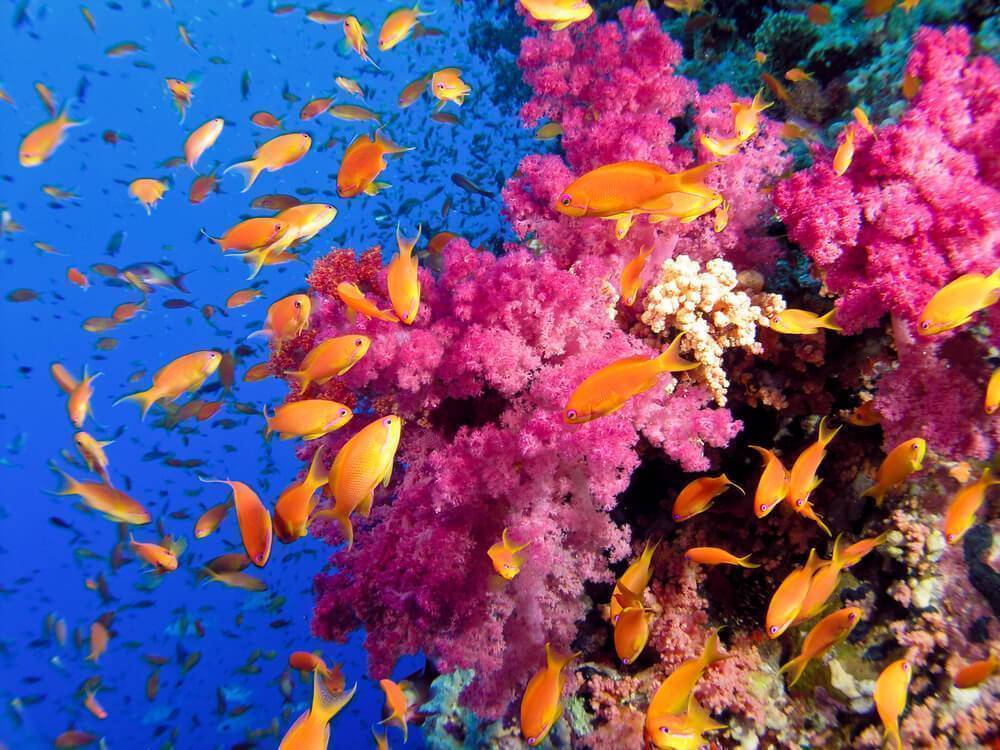 Diving Yawasa
Yasawa Islands offer an unforgettable diving experience for all kinds of travelers. Yasawa consist of 12 small islands that have their own individual style and beauty. You can snorkel or dive with colorful coral fishes, manta rays or even sharks. The most popular diving sites in Yasawa are: Gardens of Eden, Mantaray House Reef, House of Reef or Sea Fan City. Also, you can expect to see healthy corals and busy fish life. Yasawa islands are remote and surrounded by beautiful tropical reef.
Diving Taveuni
Taveuni Island is a well-known destination place for its soft corals. The soft coral capital is full of extremely colorful coral blooms, large bushes of pink and rich marine life. Taveuni Island is located near world famous diving sites: Rainbow Reef and Great White Wall, Annie's Bommies, Coral Gardens, Pot Luck, Rainbow Reef and Rainbow's End. If you decide to dive near Taveuni, the best time is between April and October. Water temperature in winter can drop to 22 degrees while in summer the temperature may rise to 30 degrees.