Mamanuca Express Water Taxi
Avoid the queues and the hustle and bustle of regular ferry schedules and ride in comfort & style waith a private speed boat transfer direct to your Mamanuca island resort!
Mamanuca Express water taxi offers fast boat services to the most popular Mamanuca Islands in Fiji. This express speedboat transfer service is perfect if you want a direct connection to your island resort for late flight arrivals or to connect with early morning flight departures. Mamanuca Express offer All Day on-demand one way or return transfers catering for up to 30 passengers.
Water Taxi Mamanuca Islands
You will enjoy a safe and comfortable journey with expereinced and well trained captain and crew, on a vessel designed specifically for the waters around the Mamanuca islands. You can prices, availability and book via our easy to use Search Box. The service can be booked for the following routes:
Port Denarau to Serenity Island Resort
Port Denarau to Treasure Island Resort
Port Denarau to Beachcomber Island Resort
Port Denarau to Malamala Beach Club
Port Denarau to Castaway Island Resort
Port Denarau to Wadigi
Port Denarau to Malolo Island Resort
Port Denarau to Tropica Resort
Port Denarau to Likuliku Lagoon Resort
Port Denarau to Plantation Island Resort
Port Denarau to Musket Cove Island Resort
Port Denarau to Lomani Island Resort
Port Denarau to Namutu and Tavaraua
Port Denarau to Mana Island Resort
Port Denarau to Tadrai Island Resort
Port Denarau to Sheraton Tokoriki Island Resort
Port Denarau to Tokoriki Island Resort
Port Denarau to Vomo Island Resort
Luggage: Each passenger is allowed one carry on bag that weighs no more than 7kg and one suitcase that weights a maximum 25kg.
A FJD$80.00 fee will be charged for every Surf-Board carried on Mamanuca Express Limited vessels.

Mamanuca Express Schedule
Pickup distance from Nadi:

Departing Denarau Marina:
Servicing:

Approx. travel
Time:

Complementary baggage
limits:
25 mins
Daytime, Every Day
Serenity Island Resort
Treasure Island Resort
Beachcomber Island Resort
Malamala Beach Club

30 to 45mins

25kg
per person, plus 7kg carry-on
25 mins
Daytime, Every Day
Castaway Island Resort
Wadigi
Malolo Island Resort
Tropica Resort
Likuliku Lagoon Resort
Plantation Island Resort
Musket Cove Island Resort
Lomani Island Resort
Namutu and Tavaraua
45 to 60mins
25kg
per person, plus 7kg carry-on
25 mins
Daytime, Every Day
Mana Island Resort
Tadrai Island Resort
Sheraton Tokoriki Island Resort
Tokoriki Island Resort
Matamanoa Island Resort
Vomo Island Resort
60 to 75mins
25kg
per person, plus 7kg carry-on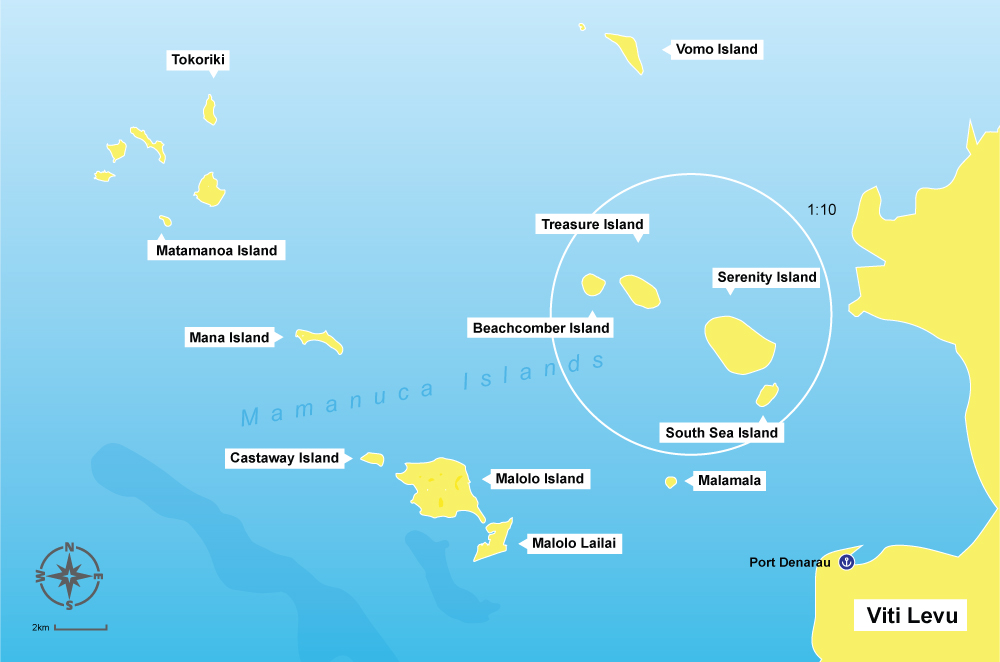 Fleet Specifications
Craft Name:
Maxi
Gemini 1
Length Overall:
11.3m
8.9m
Design:
Naiad 11.3 RIB
Gemini Marine South Africa / Assault Boats NZ
Builder:
NZ
NZ
Construction:

Alloy RIB

Assault Boats
Passengers:
33
12
Year:
2006
Beam:
4.0M
3.6m
Main Engines:
2 Yamaha 250hp 4 stroke.
Yamaha 4 Stroke
Draft:
600M
350m
Service Speed:
30 knots
32 Knots
SAFETY EQUIPMENT
Bow boarding ramp:
Yes
Safety equipment:
full safety equipment
GPS:
Yes
Radar navigation:
Yes
Communications:
VHF radio communications
Mamanuca Express Terms and Conditions
Cancellation Policy: Bookings cancelled within 48 hours of departure (including no shows) will incur a charge of 100% of the total booking value.

Note: All transfers are subject to sea and weather conditions. Mamanuca Express Limited reserves the right to suspend, postpone or cancel departures if sea and weather conditions are deemed unsafe for sailing. In case of cancellations, 100% refund will be granted. The company will not be liable for providing accomodatioon or rescheduling flights for passengers in an event of a cancellation due to weather, unforeseen circumstances or any acts of God that is beyond their resonable control.