Seabus Fiji to the Yasawa Islands
Use the search box to check prices and availability on the Tavewa Seabus Fiji from Fiji to the Yasawa islands. Simply select one way or return, chose your route, select passengers and dates then click search.
The Tavewa Seabus Fiji departs daily from Fiji (Viti Levu) to the Yasawa Islands. Sailing from Lautoka Wharf at 08:00 and returning between 16:00 and 17:00, the fast ferry goes back and forth throughout the more than 14 different Yasawa islands and includes a stop at the Blue Lagoon. You can check prices, live seat availability and make immediate confirmed bookings for your journey using our dedicated search engine at the top of this page.
Featuring a 46 seating capacity and keeping the prices as low as possible, Seabus Fiji is the cheapest way to island hop between Lautoka and Yasawa. The journey can take between 60 minutes and 5 hours depending on which island you would like to visit. Show the staff from Tavewa Seabus Fiji your booking confirmation(s) at Lautoka Wharf and they will provide you with your boarding pass. Check-in is possible from 1 hour before departure, and it's strongly reccommended to be at the check-in at least 30 minutes in advance. All relevant details and contact info is found on your e-ticket from us.
IMPORTANT: Arrival and departure times are ESTIMATES. Actual times may vary on the day according to sea conditions and loading. We advise passengers to confirm departure times with reservations (contact details on e-tickets) the day before departure. For departres from the yasawa islands back to Lautoka, we also suggest inquiring at your resort reception a few hours beforehand.
CHECK-IN: You will receive an additional confirmation from Seabus-Coralview reservations office by email within 24-48hrs of booking, containing check in instructions. For Yasawa island to Lautoka departures, please note you should inform your resort reception well ahead of time that you will be joining the Seabus service and require a launch transfer (speedboat) out to meet the Seabus ferry which will be anchored at a set meeting point offshore.
FREE SHUTTLE PICK UP:
A list of popular resorts and hotels serviced by the complimentary shuttle can be found on our main Seabus page
here
.
VESSEL DETAILS
The Tavewa Seabus is a fully licensed passenger catamaran taking a maximum of 46 passengers at any one time. Their catamaran has super fine entry hulls which means its needs relatively low power, which in term means lower operating costs and therefore a cheaper ticket price. They offer a standard rate for adults and children.
Tavewa Seabus Schedule:
Departure
point Viti Levu:

Departing
at:
Stopping
at:
Stop Number (see map)

Northbound:

Southbound:

Returning to
Lautoka:

Lautoka King's Jetty Wharf
08:00

Barefoot Kuata Resort
Wayalailai Ecohaven
Naqalia Lodge
Paradise Cove
Barefoot Manta Resort
Mantaray Resort
Botaira Beach
Korovou Eco-Tour
White Sandy Beach
Navutu Stars
Long Beach Resort
Turtle Island
Waitui Base Camp
Isa Lei Glampsite
Nanuya Island Resort
Boathouse Nanuya
Coralview Island
Gold Coast Inn
Coconut Beach
Nabua Lodge
Safe Landing Resort
Oarsman's Bay Lodge
Blue Lagoon Beach
Sawa-I-Lau Cave

1
1
1
2
2
2
3
4
4
5
5
5
5
5
6
6
6
6
6
7
7
7
7
8

09:30
09:30
09:30
10:30
10:30
10:30
11:00
11:15
11:15
11:45
11:45
12:00
12:15
12:15
12:30
12:30
12:30
12:30
12:30
12:45
12:45
12:45
12:45
13:30

15:30
15:30
15:30
14:45
14:45
14:45
14:30
14:15
14:15
14:00
14:00
14:00
14:00
13:50
13:50
13:50
13:50
13:50
13:50
13:45
13:45
13:45
13:45
13:30

Between 16:00
and 17:00

IMPORTANT NOTE: These are approximate arrival and departure times. They may vary on the day according to sea conditions and loading. All passengers MUST confirm departure times with reservations 24 hours prior to departure.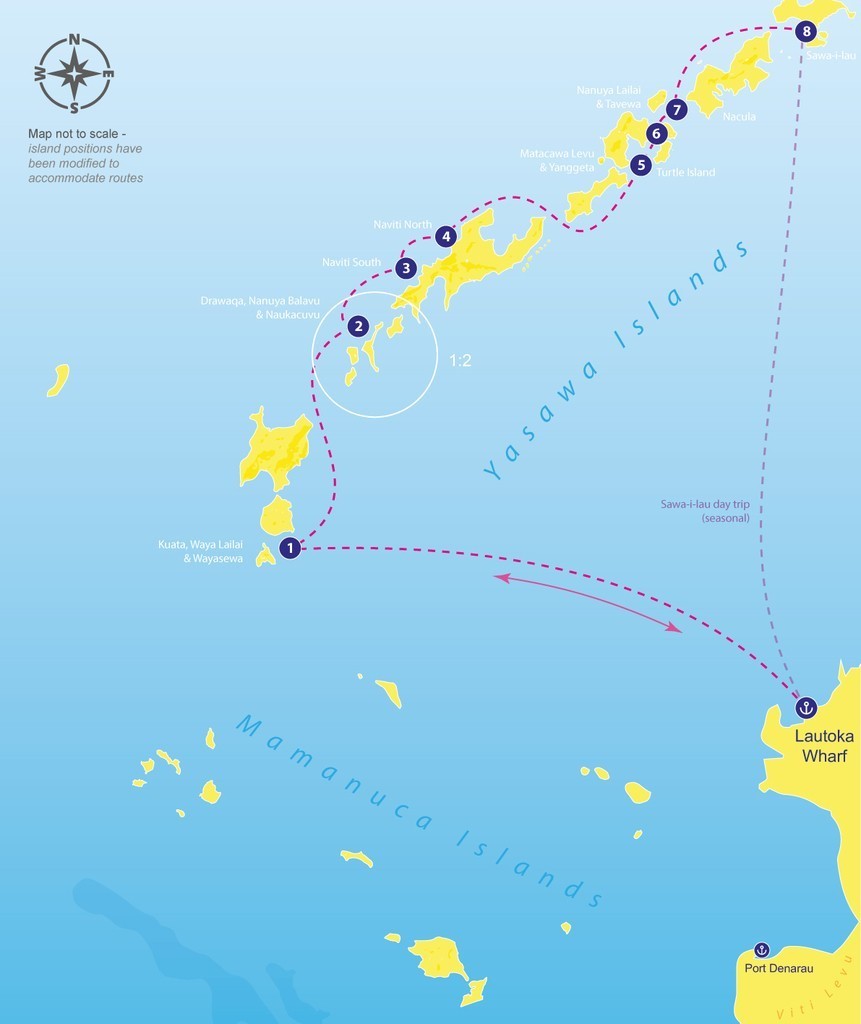 CANCELLATION POLICY
Cancellation up to 48h before the trip will receive a 80% refund minus any charges applied to make the refund (see the general Terms and Conditions for cancellation charges). Zero refund for cancellations within 48hours of travel.
Yalodu Enterprises Co Pte Ltd; reserves the right to cancel departures, alter prices and apply a fuel surcharge, arrange alternative transport and services if necessary.
All transfers are subject to sea and weather conditions. Should adverse conditions prevent operations the client is responsible for their own additional accommodation costs.
LUGGAGE ALLOWANCE
Every passenger is entitled to 20kg of luggage on every transfer, Free of Charge. Any weight exceeding will be charged at Tavewa Seabus standard rates, if room on board is available; Tavewa Seabus otherwise may arrange to transfer the excess by other available carrier as agreed to by passenger at his/her own risk and expense.
Online bookings can be made up to 24 hours in advance and if you have any questions feel free to check out our FAQ page or send us a message.