Seabus Fiji - Ferry to Yasawa
Tavewa Seabus is operated by Coralview Island Resort, Yasawa, and was the brainchild of owner Don Henry Bruce who hails from the island of Tavewa. They provide the most affordable service for tourists and locals traveling to the Northern Yasawa Islands since 2016.
The Fiji Seabus departs from Lautoka Wharf ("Kings Jetty")
daily at 8.00AM and returns from the northern Yasawas in the mid to late afternoon (depending on sea conditions and loading)
.
Lautoka wharf is around 30mins drive north of Nadi International Airport. Tavewa Seabus can accommodate up to 46 passengers in their fully licensed and CFT certified passenger catamarans.
Book your seabus ticket simply by using our handy search tool. Your confirmation and e-tickets will be sent immedatialey upon completion of the straightforward booking process.
Tavewa Seabus Fiji Route
Tavewa Seabus Fiji offers direct connections from Lautoka Wharf to the following islands: Waya, Naukacuvu, Drawaqa, Nanuya Balavu, Naviti, Yaqeta, Matacawalevu, Nanuya Levu, Nanuya Lailai, Tavewa, Nacula and seasonally the Sawa-I-Lau caves.
Tavewa Seabus has, depending on season, direct connections with the following accommodations:
Octopus Resort, Mantaray Island, Barefoot Mata, Botaira Resort, Korovou Eco, White Sandy Beach, Navutu Stars, Long Beach, Turtle Island, Nanuya Island, Coconut Beach, Waitui Basecamp, Isa Lei Glampsite, Goldcoast Inn, Safe Landing, Nabua Lodge, Coralview Island Resort, Blue Lagoon Beach Resort, Oarsman's Bay Lodge, Sawa-I-Lau Cave and beyond.
The resorts on these islands will have to provide your pick-up at the off-shore locations the boat docks at. If you're not staying at one of the aforementioned places, please contact your accommodation to inquire regarding a pick-up at the off-shore docking locations that Tavewa Seabus services.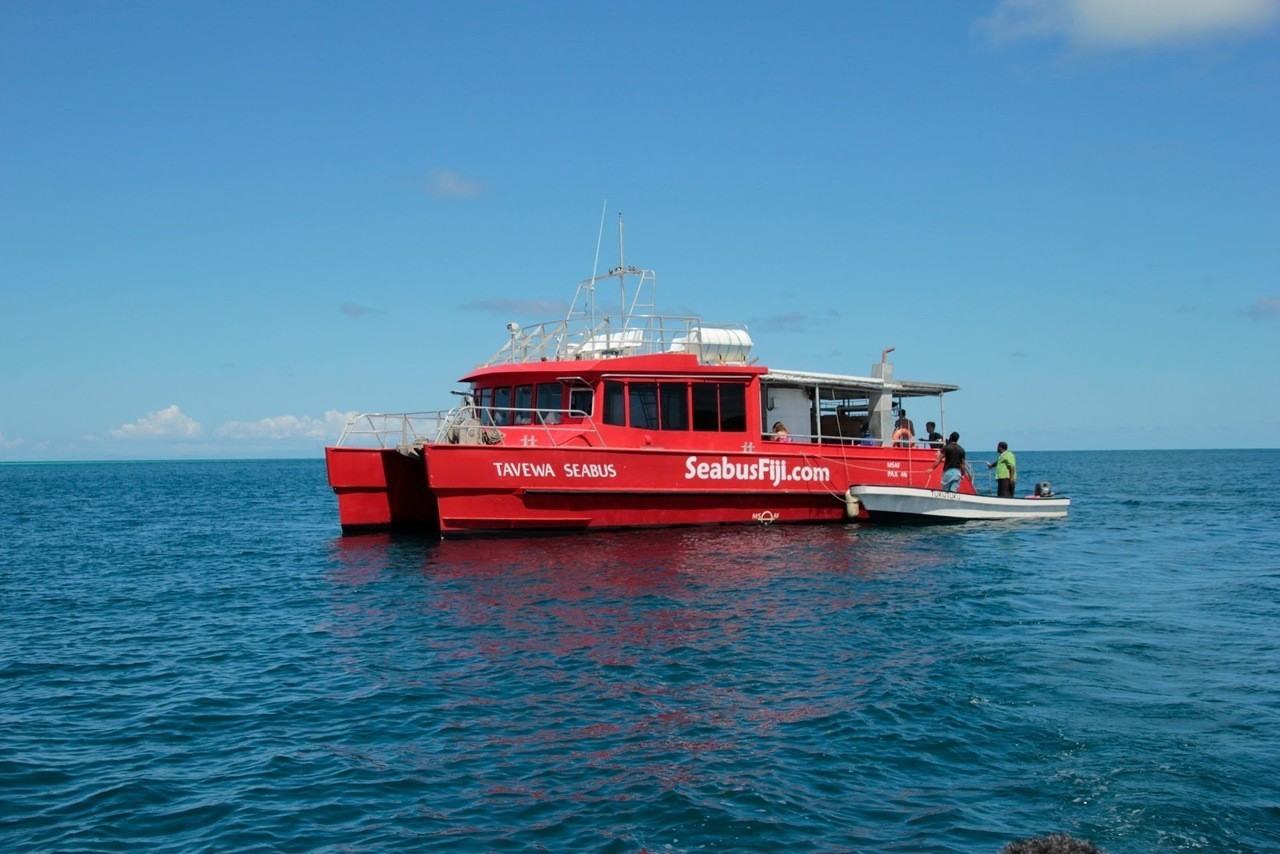 Terms and Conditions
Cancellation made up to 48 hours before the trip will receive a full refund. Cancellations within 48 hours will be charged in full. Tavewa Seabus Fiji reserves the right to cancel departures, alter prices, apply a fuel surcharge and arrange alternative transport and services if necessary. All transfers are subject to sea and weather conditions. Should adverse conditions prevent operations, the client is responsible for their own additional accommodation costs.
Every full paying passenger is entitled to 20kg of luggage on every transfer, free of charge. Any weight exceeding will be charged at Tavewa Seabus standard rates, if room on board is available. Infant fare is from 0 to 3 years old, 4 to 11 years old pay the child fare, adult fare is paid from 12 year onwards.
Pickup
Tavewa Seabus offers a complementary pick up service from hotels along the Nadi to Lautoka corridoor. This can be arranged simply by emailing them to inquire using the details on your booked e-tickets.
Seabus pickup from the islands
Yasawa resorts liase with Seabus to take you out to the offshore anchor point of the ferry with smaller craft. Guests Staying in Homestays or B&B's in the Yasawa's should contact Seabus 24hrs in advance for advice on the best pickup spot and time.
Boat Info
The Tavewa Seabus is a fully licensed passenger catamaran taking a maximum of 46 passengers at any one time. Their catamaran has super fine entry hulls which means its needs relatively low power, which in term means lower operating costs and therefore a cheaper ticket price. It departs the Lautoka Wharf daily early in the morning and returns from the Yasawas to arrive back in Lautoka in the mid afternoon. See the
current schedule
for timings.
Yalodu Enterprises Co Pte Ltd
Boats depart from Lautoka Wharf; exact location is given in the map. Tavewa Seabus is run by Yalodu Enterprises Co Pte Ltd