Malolo Cat
Malolo Cat has been providing services in Fiji since 1998 under Leeward Services Ltd. This company is the main boat carrier operating between Port Denarau and Malolo Lailai Island.
Malolo Cat ferries have met all survey requirements, which are conducted every six months by the Maritime Safety Authority. The company represents the best value and reliability for passengers going to the breathtaking island of Malolo Lailai in Fiji. They operate 3 modern high-speed catamarans from Port Denarau to Malolo Lailai Island 4 times daily. They have 15 staff that man these vessels, all of which completed their training at Fiji National University.
They can accommodate comfortably up to 158 passengers and offer complementary bus transfers to and from Nadi International Airport or Nadi hotels to/from Denarau Marina. To check availability please click
here.
Malolo Cat Ferry to Malolo Lailai
Malolo Cat operate three modern high-speed catamarans, bringing customers four times daily, between Denarau Marina and Malolo Lailai Island.
Malolo Lailai is home to 3 different resorts, miltiple swimming pools, bars, great restaurants, coffee shops, water activities galore and much, much, more! Furthermore, it is open to day visitors, but you'll wish you had come for longer – there is just so much to see and do on this island!

The last boat returns to the mainland, arriving at Port Denarau at 4.50pm with a courtesy coach connection back to selected Nadi Hotels.
Coach Transfers
Malolo Cat provides free transfers between Nadi International Airport and Hotels to Denarau Marina. The bus will pick you up from Musket Cove's Nadi Airport office or Fiji Getaway Hotel one hour before the actual departure. Return bus departs 20 minutes after the ferry arrives at the marina.
You must book your coach transfer in advance. During the booking process, simply tick the transfer box underneath your passenger info and select from the options. You will be contacted in advance for details. Important: If you do not book your coach transfer in advance, getting to Denarau Marina is your responsibility and at your own costs.
For more information, times and the nearest pick-up location to your hotel, please have a look at the transfer map.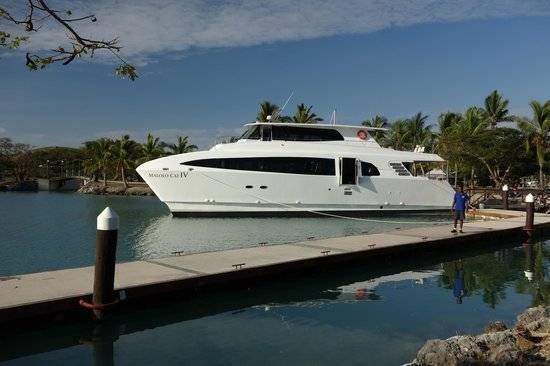 Terms and Conditions
Changes to a booking can only be made by contacting the boat company through the details provided on your Fiji-bookings e-tickets up to 1 hour prior to booked departure time without a penalty.

When reservations on one Malolocat crossing don't reach the minimum amount of passengers they will automatically be transferred over to the next Malolocat service. All fares and timetables are subject to change without notice.
Cancellation policy: A full refund can be provided for cancellations made (communicated direct to Malolo Cat) up to 1hr in advance of travel. Cancellations made within 1 hour of booked departure time, not made through the proper channels or "No Shows" will be charged 100%.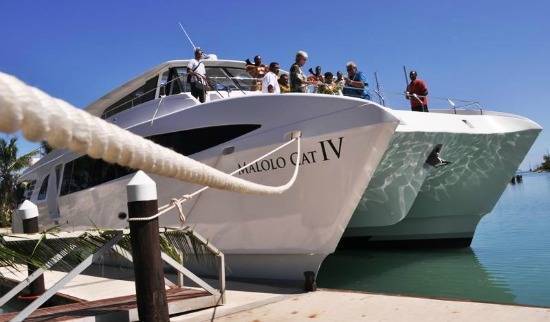 Boat Restrictions
No food or drinks can be consumed or carried on board Malolo Cat Ferries in hand luggage. You are allowed to take 25kg per adult/child and 10kg per infant. Carry-on luggage can be 5kg per person and any excess baggage will be an additional $2 Fijian Dollar per kg.
Make sure to remove all things of value, such as laptops, jewelry, cash, travel documents etc. from your check through luggage as the operator will not be responsible for any loss or damage.
Liquor: House Guests may carry 2 litre only per adult of their own Duty Free spirits or wine as hand luggage.
Note: Malolo Cat cannot transport cartons of beer/wine/bottled water. Food, drinks, coffee, beer, ice cream are not permitted on board.
Leeward Island Services
Boats depart from Denarau Marina, Viti Levu.
Malolo Cat is a trading brand of Leeward Island Services; Operators of "Malolo Cat I & II" servicing Musket Cove Island Resort and Plantation Island Resort.