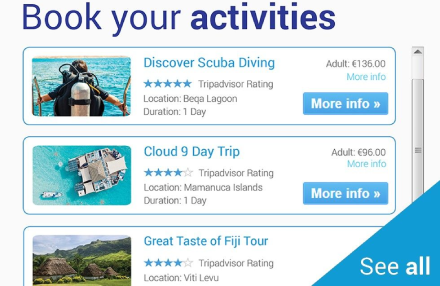 Fiji Travel Guide
Fiji Travel Guide: Comprised of over 300 islands, Fiji is an island nation in the Pacific Ocean that is well known for its stunning beaches, warm climate and laid back atmosphere. With swaying palms, crystal clear water and friendly Fijian people the sheer natural beauty of Fiji is the experience of a lifetime.
Fiji-bookings.com provides ferry tickets and activities for travellers exploring the Mamanuca Islands, Yasawa Islands, Nadi, Denarau, Pacific Harbour, Coral Coast and beyond. From day trips hiking the mountains and nature on Viti Levu (main island) to island hopping that can last for several days throughout the stunning islands along Fiji's West Coast, there is plenty to do in Fiji.
The Mamanuca and Yasawa Islands are a true bucketlist destination, especially if you are looking to spend some time doing water activities such as scuba diving, island day trips by boat or island hopping.
From Nadi you can explore Fiji's stunning nature through adventure, tours and daytrips or you can opt for a city trip or relax for a day at the spa. From Nadi you can do an 11 day tour (Feejee Five), or a single day tour through old villages and rugged nature, several seaplane tours, zip lining, and lots of other activities. Denarau is the main tourist area and harbour on the west coast of Fiji, with plenty of things to do for both business and leisure visitors. In Denarau playing golf is very popular and from the marina you can take a fishing trip, helicopter flight, or any of the combo packages going to either the Yasawa or Mamanuca islands from Fiji mainland.
Pacific Harbour and Beqa on Viti Levu are well known dive Mecca's. With soft coral dives, shark dives and many other water sports you will be sure to enjoy yourself in this Fijian paradise. Along the Coral Coast in Fiji you will be able to visit the outdoor Kula Wild Adventure Park where visitors are surrounded by Fijian flora and fauna.
Where to go in Fiji
Fiji's beautiful coastlines full of cultural activities and stunning nature can be explored along the Sun Coast, Coral Coast and the Pacific Harbour/Beqa area on Viti Levu. The cities of Nadi, Suva and Denarau offer great culture and places to eat & drink. Beyond the main island, to the south and east, several stunning deserted island groups exist such as the Lau Group, Lomaiviti Group and Kadavu Group.
Off-road and nature adventures are found to the northeast on Vanua Levu and Taveuni Island. For the best island hopping the Mamanuca and Yasawa Islands off the west coast boast some of the most fantastic surf and dive sites in the world. If you would like to find out more about each destination in Fiji, simply check out the specific travel guides below: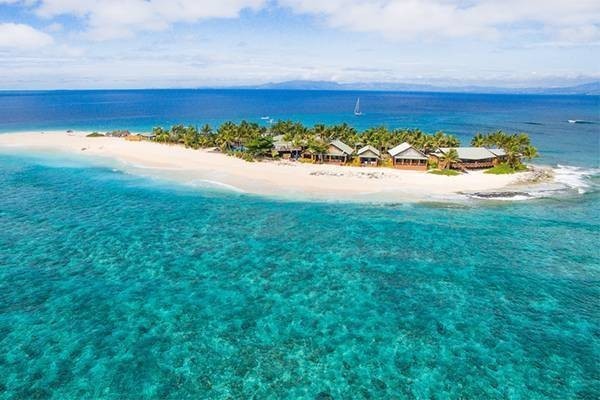 The Yasawa group consist of about 20 volcanic islands that are spread out over an area of 135 square kilometers. There are six main islands and several smaller ones. Glistening waters teeming with marine life, rugged terrain and gorgeous beaches make Yasawa the best
island hopping
destination in Fiji.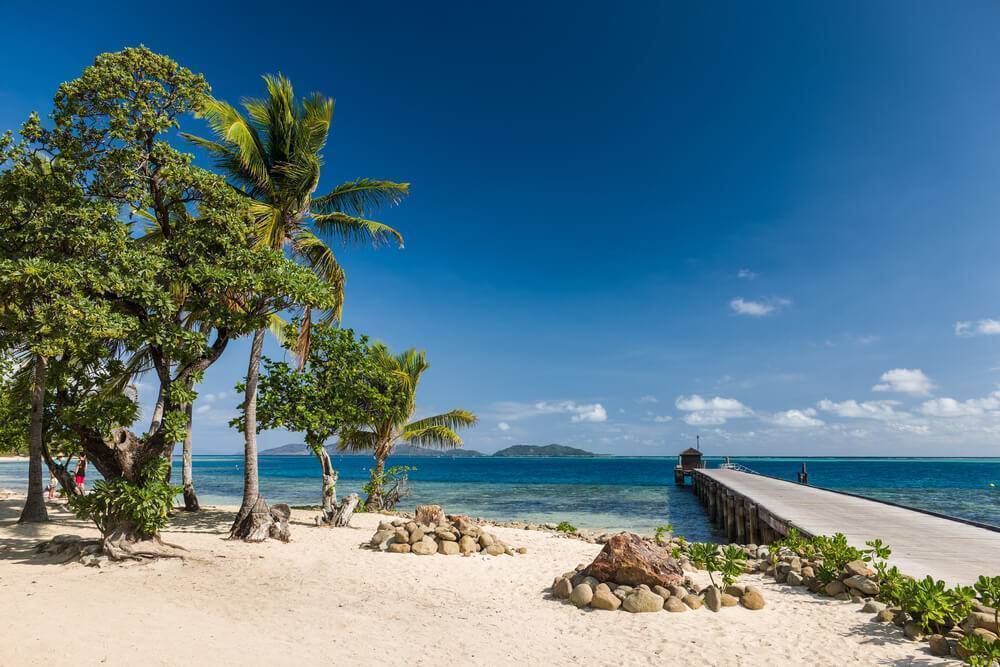 The Mamanuca Islands of Fiji stretch out from Nadi towards the Yasawa islands and are famous for their great surf. The island group consists of about 20 islands of which seven are covered with water at high tide. The other islands offer luxury resorts and a broad range of water activities.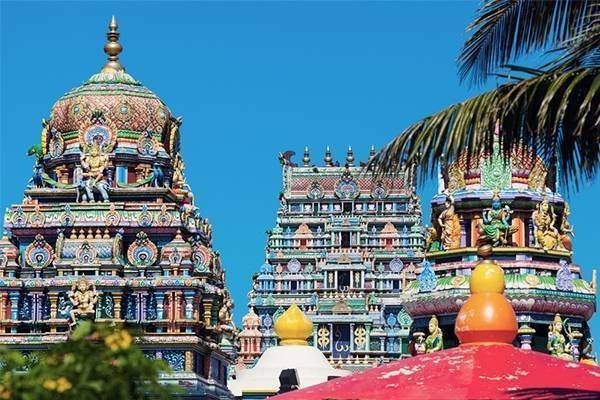 Nearly everyone who visits Fiji comes to Nadi. This bustling multi-cultural town is the main hub for international travellers, and offers great places to eat, drink and shop. Main Street is the centre of action with plenty of shopping, and the latest Hindi or Fijian music playing from every storefront. With its wide range of quality accommodation and close proximity to Denarau Island and the Mamanucas, Nadi is the ideal place to base yourself during your trip.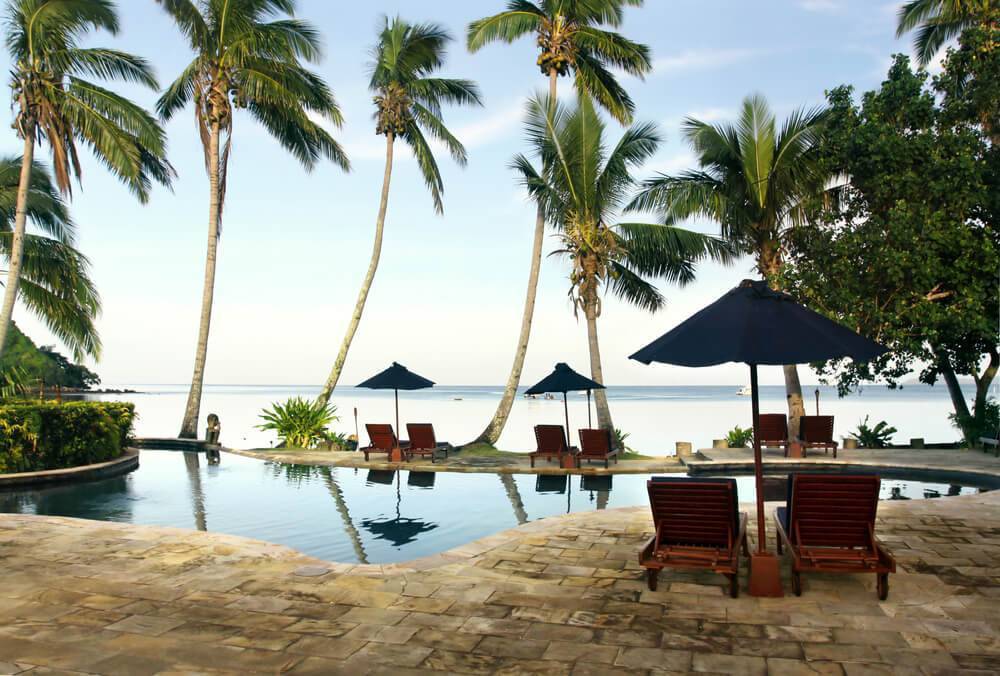 Denarau Island is a man-made development located on Viti Levu, only 10 kilometers from Nadi. It has 8 large resorts, stunning beaches and a golf course often featuring championships. Denarau is mostly used for business purposes but the resorts offer great options for kids.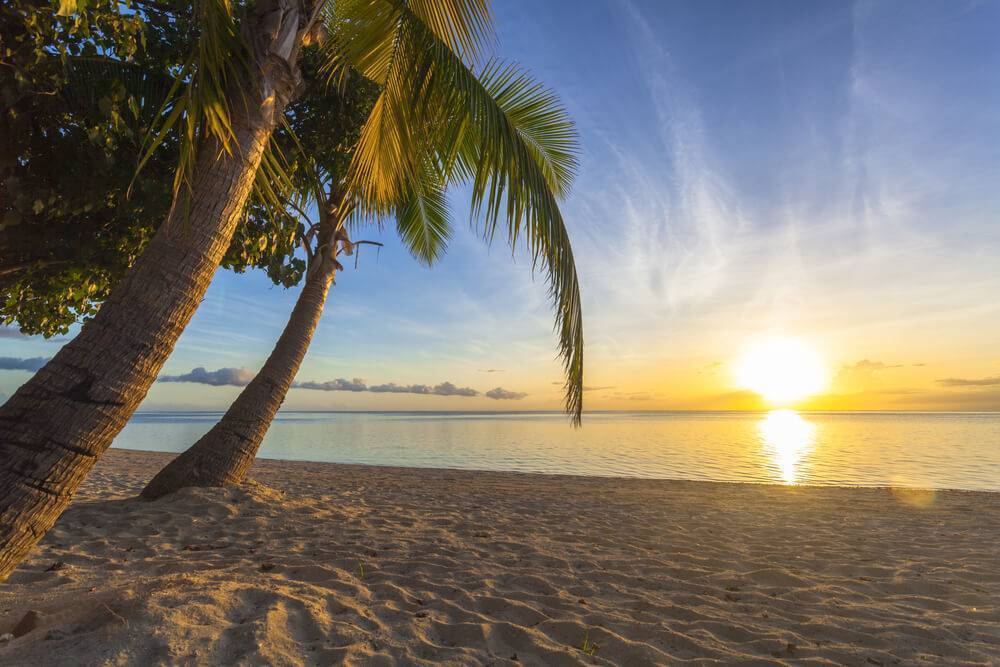 The Sun Coast is located along the Western and Northern coastline of Vitu Levu island. Covered with sugar-cane fields, rural villages and cultural market towns, it's easy to fall in love with this part of Fiji. The coastline is peppered with great restaurants and has a wonderfully laid back vibe. The mountainous Koroyanitu National Heritage Park provides a beautiful backdrop and is great for hiking.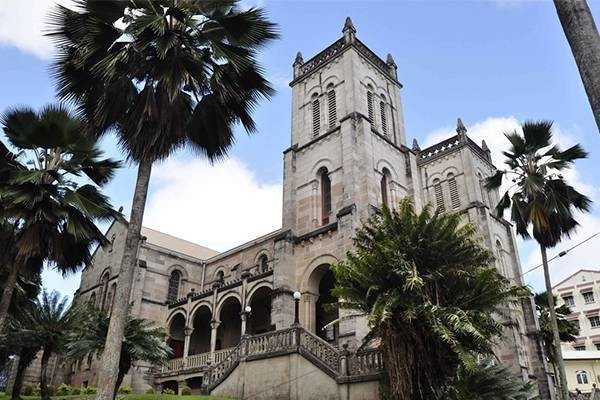 Suva is well known for its diverse architecture in Fiji. It is the capital and the main business hub on Vitu Levu. The mix between colonial, Islamic, Indian and modern buildings give the city a vibrant cultural feeling. The city offers various activities including walking tours, sports, shopping and a wide range of trendy bars, restaurants and clubs.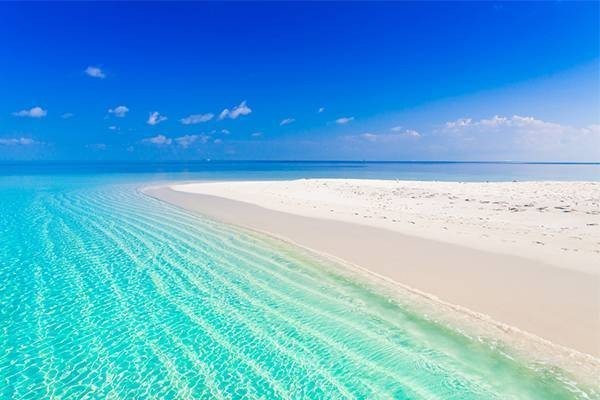 Between Navi and Suva is a stretch of 80km coastline called the Coral Coast, considered to be one of Fiji's main tourist areas. Pacific Harbour, known as the Adventure Capital of Fiji, is located here featuring "the Arts Village", which is an outdoor Pacific-style development of local shops with a cultural centre.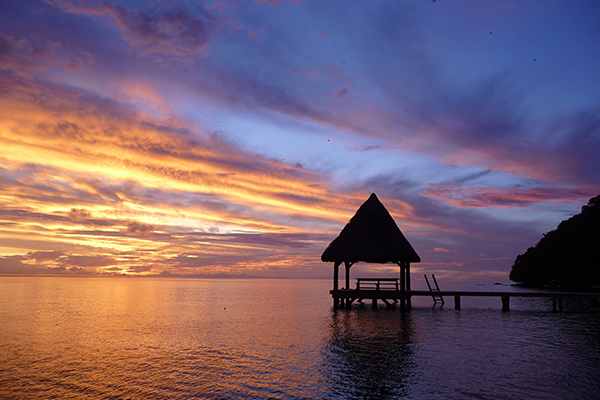 Within an hour's drive from Fiji's capital Suva, the adventure hub Pacific harbor is found. Boasting a wide range of activities for travelers who enjoy adrenaline sports and the excitement of adventure. From surfing to shark feeding, there's something for every thrillseeker. More laid back activities are also available for those who prefer to relax.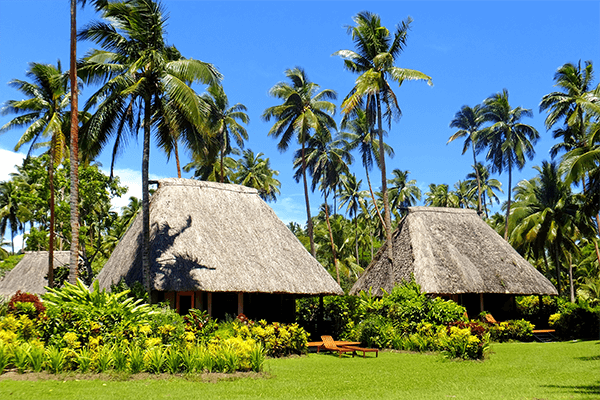 Vanua Levu is Fiji's second largest island and home to the endangered silktail bird. While Vanua Levu is less tourist-oriented than Viti Levu, there's still lots to see and do for the more adventurous traveler. The island is considered to be one of Fiji's best keps secrets because it is such a different world compared to Viti Levu. There are loads of little villages and waterfalls hidden away in the Volcanic scenery which makes the island great for exploring.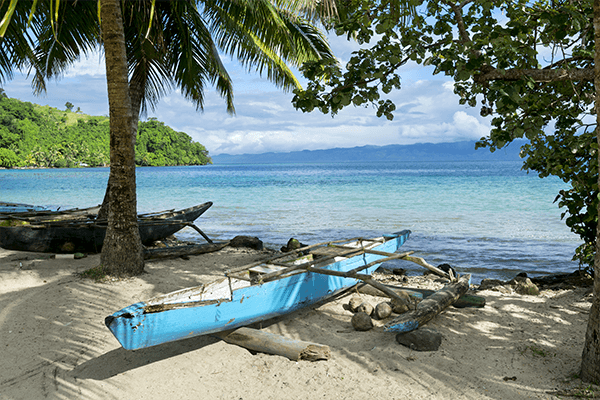 The Lomaiviti Province is one of 14 provinces of Fiji that covers 411 sqkm, consisting of seven main islands and a few smaller ones which are a great place to relax and enjoy laid-back island life. Most visitors head to Ovalau island for its volcanic peaks, sparkling blue waters and history, or they visit the inner islands offering more facilities and attractions for tourists including diving, whale watching, fishing and snorkelling.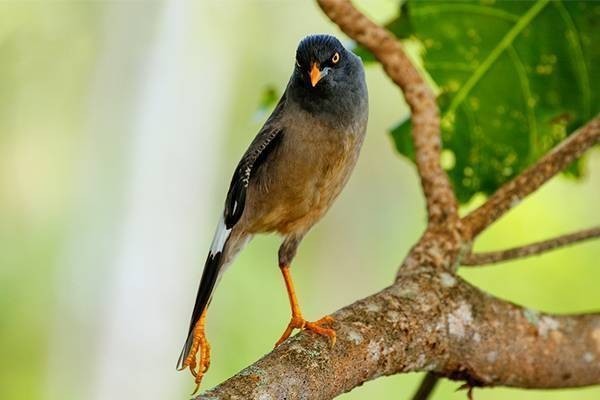 Taveuni is the third largest island in Fiji after the Vanue Levu and Viti Levu. The cigar shaped island is a product of the volcanic activity which rises from the Pacific Ocean floor. Known as the Garden Island, it is a dream come true for eco-tourists. Nearly all the unique plant and animal species of Fiji can be found in this island. The tropical rainforest is a home for a plethora of colorful birds.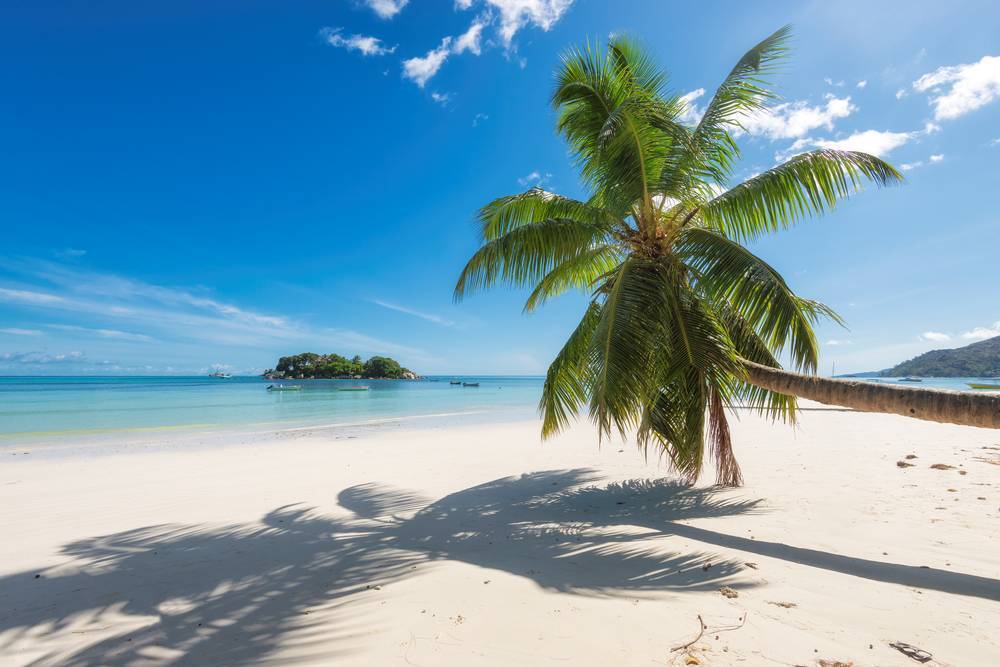 The Kadavu Group covers 411 square kilometres, is made up of four main islands and home to the Great Astrolabe Reef. The islands offer travelers the chance to experience true Fijian culture. There is plenty of accommodation and getting around is an adventure but definitely worth it. The Lau islands are situated in the southern Pacific Ocean with 57 islets of which 30 are inhabited. These are very remote and there is almost no accomodation to be found.
---
Travel Tips
Including some frequently asked questions and general info relating to traveling to Fiji and the surrounding islands. For more detailed info on specific islands within the Yasawa islands and Mamanuca islands please view their individual pages. If you need help or advice on how to book a fast ferry ticket or hotel, click here to visit our most common Frequently Asked Questions (F.A.Q)
Weather and climate: Fiji is perfect for beachside holidays because of its warm tropical climate with temperatures that stay between 31°C (88°F) to 26°C (79°F) all year round. From May until October the weather is quite dry because of the South-east trade winds and the rainy season is from November until April.
Health precautions: Make sure you are up-to-date on routine vaccines before every trip. These vaccines include measles-mumps-rubella (MMR) vaccine, diphtheria-tetanus-pertussis vaccine, varicella (chickenpox) vaccine, polio vaccine, and your yearly flu shot. Some travelers also get vaccines for Hepatitis A and Typhoid.
Note: Zika outbreaks have been reported in Fiji. Because of the risk of birth defects in babies born to women who were infected with Zika while pregnant, women who are pregnant are advised against travel to Fiji.
Visa requirements: Visas are not required for visits of up to 4 months. However, you must have an onward or return ticket and a valid visa for the next country you are travelling to. If you are visiting Fiji on business, you will be granted a stay for 14 days on arrival.
Currency: The local accepted currency is the Fijian dollar, which is usually hovers at around half the value of the US dollar in currency exchange.
Getting around: Inter island transport is best done with the various fast boat and ferry services which can be booked using the search box on our homepage. Alternatively, local transfers are sometimes available depending on the island and times.
Voltage requirements: Electrical sockets (outlets) in the Republic of the Fiji Islands usually supply electricity at between 220 and 240 volts AC. If you're plugging in an appliance that was built for 220-240 volt electrical input, or an appliance that is compatible with multiple voltages, then an adapter is all you need.
Time zone: Fiji is GMT/UTC + 12h during Standard Time Fiji is GMT/UTC + 13h during Daylight Saving Time.
Best things to shop for: If you are looking to buy souvenirs we recommend doing this on Fiji's mainland as prices are lower. In addition, Kava (also called yaqona, or grog) is a non-alcoholic, non-narcotic beverage made from the ground root of the pepper plant is definitely something you must try when in Fiji. Far from being spicy, though, the drink actually numbs the lips and tongue slightly for a few moments. Not to worry, though--this effect is short-lived and subtle. Kava contains massive amounts of vitamin B, a natural muscle relaxant and antidepressant.
What to bring: In terms of clothing we suggest taking light cotton clothing, T-shirts, shorts and light dresses are best. Don't forget your swimsuit!
Travel insurance is strongly advised to cover unforseen incidents such as cancellations, lost or stolen goods, accidents, illnesses, etc.
Suntan lotion is quite expensive on Fiji and some of the sun protection products sold are not environmentally friendly (or reef friendly) so it is best to ensure that you bring enough lotion with a high SP. In addition, bug spray could be very handy to take between December and April because of the rainy season. Not always needed, but it is better to be safe than sorry.
Band-aids (waterproof), aspirins and antibiotic cream could come in handy for little cuts and bruises caused by the coral or wilderness. Since it is not so easy and very expensive to get medicines in Fiji is it recommended taking these yourself too, e.g. pills for an upset stomach or to avoid dehydration.

A camera (preferably one that can shoot underwater) is definitely something you should take to Fiji to ensure pictures of your best experiences and the beautiful underwater wildlife.
If you have your own snorkel equipment we suggest taking it because some resorts charge for the use of equipment.

Departure taxes and port fees: Visitors to Fiji are required to pay €15.00 departure tax in Fijian currency, which is around 40.00 Fijian dollars, following check-in. Children under 12 are exempt.