Awesome Pass Fiji
Fiji's stunning Yasawa islands are some of the most popular in Fiji and are the perfect destination for island hopping in Fiji! One of the local tour operators who run the daily Yasawa Flyer ferry services throughought the archipelago, have teamed up with the most popular Yasawa island resorts to bring you the Awesome Pass.
This package covers ferry transfers with a Bula Pass, combined with various types of accommodation, ranging from dormitories to en-suite private rooms.
Hop aboard the Yasawa Flyer, which departs daily from Denarau Marina to the Islands, and explore paradise at your own pace. The Awesome Pass (previously known as a "Bula Combo pass") allows travellers to explore the Yasawa islands within a set period of time. You can discover the different types of Awesome Pass from the options below.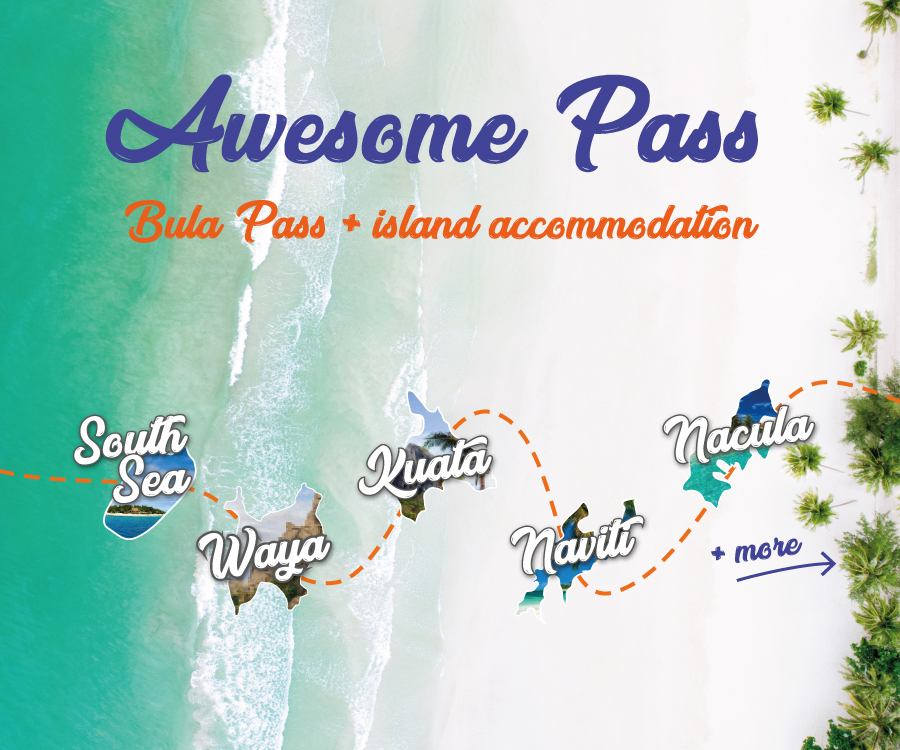 ✅ Ultimate flexibility ✅ Includes Bula Pass ✅ From 5 to 15 days ✅ Accommodation included
Ultimate flexibility - Reserve island accommodation ahead (recommended), or if you prefer, wait until you're there!
Includes Bula Pass - The famous Yasawa Island hopping pass is included in the package, allowing you ultimate freedom to explore.
Accommodation included - Accommodation ranging from shared dormitories to private en-suites available.
From 5 to 15 days - Select your preferred duration, with 5, 7, 8, 9, 10, 11, 13 & 15 day pass options.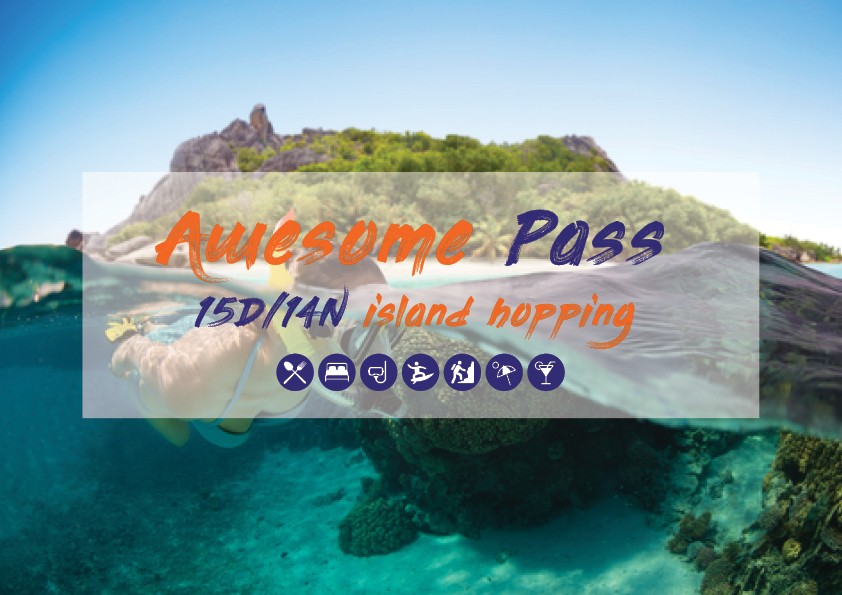 Make the most of your time in Fiji with the 15 day Awesome Pass!
This is the ultimate Yasawa Island hopping package with the longest duration and maximum flexibility. Choose from dormitory (shared) accommodation or private Bures (traditional style Yasawan huts, finished to modern standards) at a bucketlist selection of islands along the extent of the archipelago.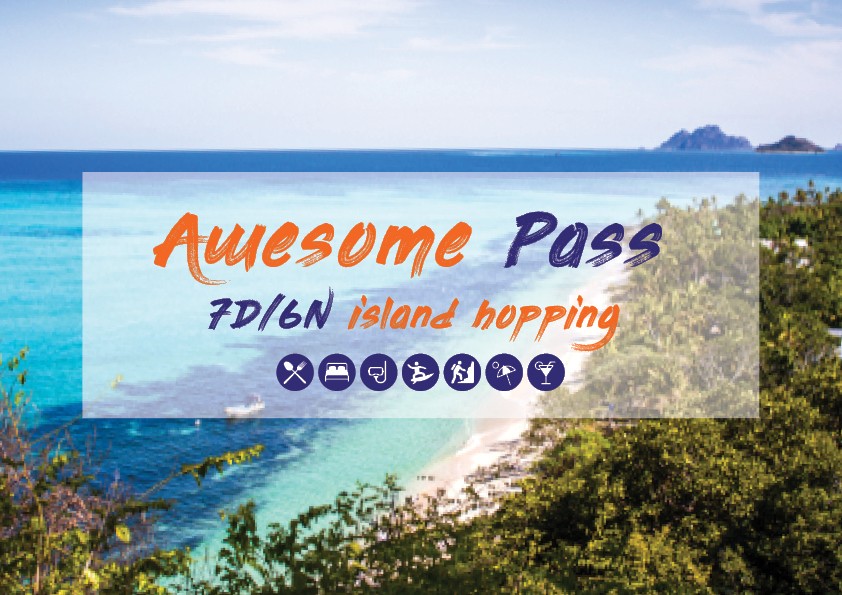 The 7 day Awesome Pass is the most popular Fiji island hopping package.
A week in Yasawa is a great way to enjoy these gorgeous tropical islands, while also leaving time to be spent elsewhere in amazing Fiji. Bask on pristine beaches and swim in unforgettably turqouse waters. Chose from quality private or shared accommodation at a bucketlist selection of Yasawa islands.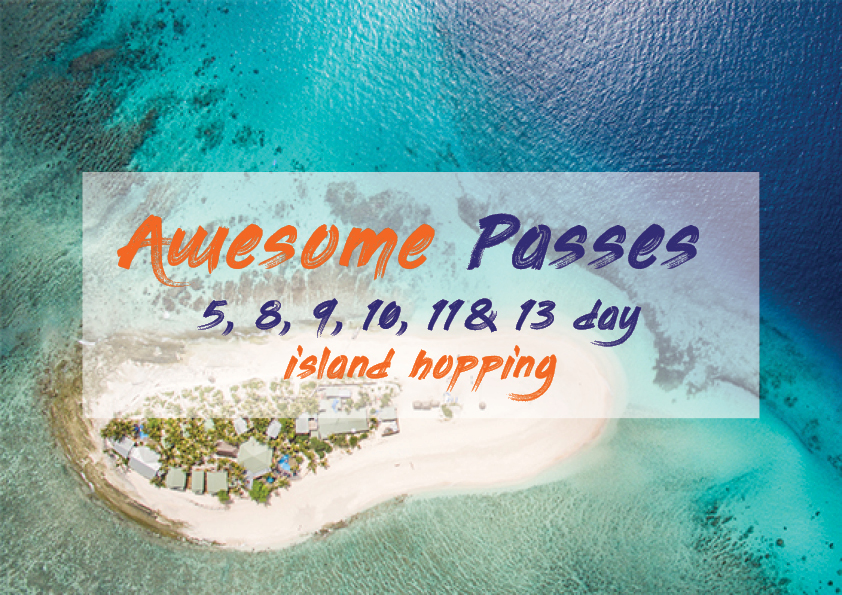 Besides the popular 7 and 15 day options, the Awesome Pass is also avilable in the following lengths of stay: 5, 8, 9, 10, 11 & 13 days.
Choose the best duration to suit your Yasawa island holiday plans! Select from dormitory (shared) accommodation or private Bures (traditional style Yasawan huts) at a bucketlist selection of Yasawa island resorts.
How It Works
➲ When an Awesome Pass is booked through Fiji-bookings.com our system sends out an immediate booking confirmation.

➲ We get in touch to arrange the details of the preferred island hopping itinerary and accommodation.

➲ Complementary airport/hotel transfers to the harbour can be requested during the booking process.

➲ The island hopping Bula pass for use on the Yasawa Flyer will be activated on the first day of travel.

➲ At check-in an Awesome Yasawas Guidebook is provided to help pick any islands and accommodation that have not yet been chosen. Note: Reserved accommodation is required before arriving at an island in order for disembarkation to be allowed. For last minute reservations there is a travel desk on board the Yasawa Flyer. We recommend sorting out accommodation as far in advance as possible to avoid dissapointment when availability runs out, especially for private room types.
Awesome Pass Resorts
The Resorts have a good standard of accommodation and amenities, but still with a strong local Fijian island vibe.
Ownership and management is a mix of Fijian and European, with Fijian staff. Airconditioning or fans are available during generator operating hours. A varied meal package including breakfast, lunch and dinner is provided at the resorts (not included in the price).
The following participating island resorts can be requested for accommodation on an Awesome pass (subject to availability):
South Sea Island Resort

Barefoot Kuata

Octopus Resort

Mantaray Island Resort

Barefoot Manta Island

Nanuya Island Resort

Boathouse Nanuya

Oarsman's Bay Lodge

Blue Lagoon Resort
Please note: Some resorts are very popular so reserving your preferred choice of accommodation in advance is strongly advised, especially if you wish to stay in private room types.

If you prefer to delay choice until travelling in the Yasawas (which is feasible if staying in the shared dormitory accommodation), It is essential to book your first island at least 48hrs before departure. Some properties may have a minimum 2 night stay policy.