Diving Kadavu Island
The Great Astrolabe Reef is still the jewel in the Kadavu diving crown and is a reef now well known among divers throughout the world. The reef is about 100 km long, making it the fourth largest barrier reef in the world. The reef boasts a variety of stunning hard coral outer reef slopes in wonderous colours, and steep soft coral drop-offs.

The dive sites here exhibit a tremendous variety with several passages, submerged pinnacles and manta ray cleaning stations adding to the reasons why Kadavu is a great spot for several days diving.
Most activities are focused along the East Coast, where you will find Mad Fish Dive Centre - located along the shores of Kadavu Island. They offer a full range of services from complete beginners to the more experienced diver and are ready to make your Kadavu diving experience a memorable one. You can find out more about what the dive centre has to offer below.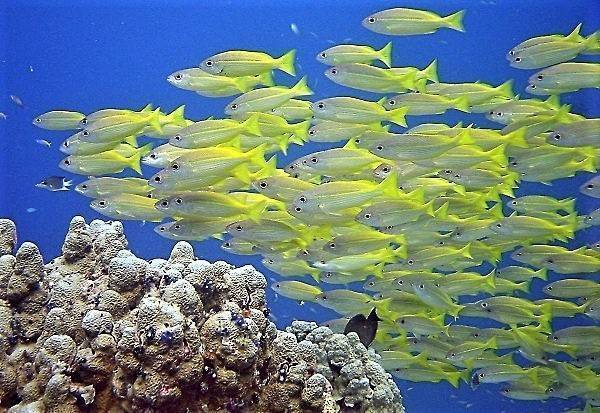 Mad Fish Dive Centre
Mad Fish Dive Centre is Matava's on site PADI 5 Star Dive Centre. They dive the The Great Astrolabe Barrier Reef extensively and cater for all levels of diver from beginner to experienced. Mad Fish Dive Centre will take you to sites varying in depths, currents and visibility ranging from 20 – 100m where you can expect a kaleidoscope of colourful corals and wonderful marine life – we can assure you that you won't be disappointed.
The crew at Mad Fish Dive Centre are a dedicated team of professionals who look forward to guiding you through some of the best dive sites in the world. As the only dive operation located directly on the world famous The Great Astrolabe Barrier Reef they will zip you within minutes to the abundant coral dive sites of the 4th largest barrier reef in the world. Combined with simple access to The Manta Dive, Fiji's only year round manta dive site, Mad Fish Dive Centre truly offers divers easy and comfortable access to some of the best diving Fiji can offer.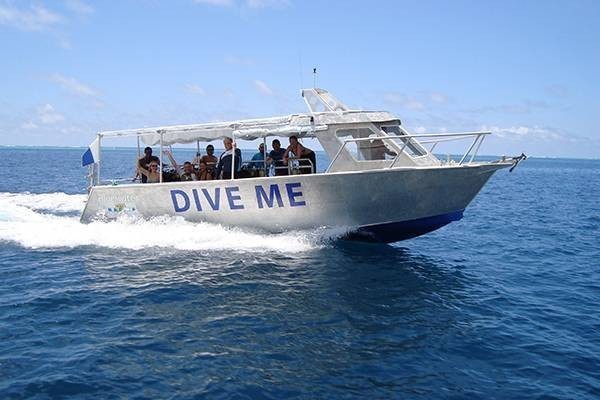 Mad Fish Dive Sites
Amazing Manta Reef
Their Signature Dive Site – Manta Reef is a site where guests can dive and sometimes snorkel with Manta Rays all year round. The reef is a feeding station but occasionally mantas stop for a clean above the reef. We have a resident population as well as occasional pelagic manta visits. The site is a submerged reef outside of the Great Astrolabe Barrier Reef and is about a 40 minute boat ride from the Resort.
Connie's Reef
A nice and calm sheltered site, 10 minutes away from the Resort, in the inner mouth of Vesi Passageway. Connie's Reef is an easy dive with plenty to offer the amateur photographer. A gentle current wafts you along a reef edge slope with large areas of hanging soft corals and if you have a keen eye, the occasional Ghost Pipefish.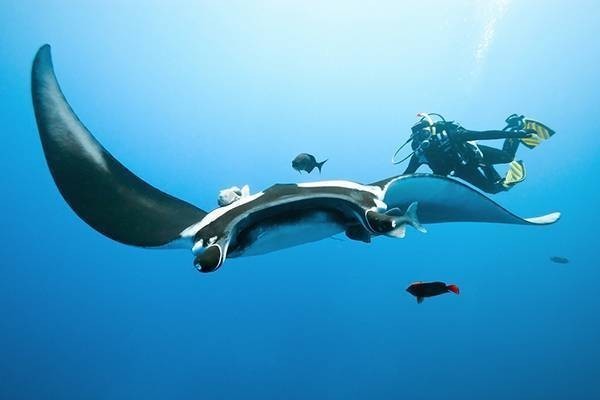 The Belfry
The Belfry is not always accessible as it is on the Outer Great Astrolabe Reef. The Batfish swarm over this undersea mount as it acts as a natural Fish Attraction Device. Named for its schooling Batfish, schools of Barracuda also regularly hang out in the bluewater and always come in to check out the divers. This is very much a pelagic dive on the edge of open ocean waters, 600 meters.

The Golden Chimney
A sand slope that leads to a passageway drift dive along a steep rock wall face and ending in a cave and chimney up through the reef. From the anchored dive boat, descend a sandy slope covered with Garden Eels to see the resting White-tip Reef Sharks. Then follow the steep passageway rock wall towards The Golden Chimney - a hole through the reef covered in yellow soft corals. Watch out for numerous large Moray Eels, Gorgonian Fans and plenty of hidden Scorpion Fish.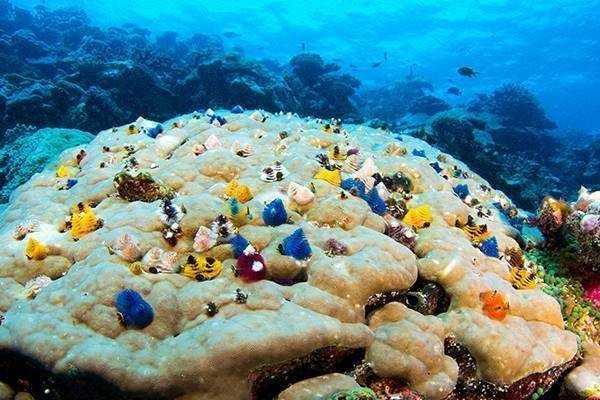 The Far Side
Dive into this dramatic drop off and drift down the slope into the lower regions of the mouth of the Korolevu Passageway while Silver-tip and Grey Reef Sharks, Dogtooth Tuna, schools of Big-eye Trevally and Barracude cruise past to the outer depths.
Coral Wonderland
A passageway drift dive opening out to the outer reef hard coral slopes. At the end of the wall, large schools of Barracuda often hang out along with a Grey Reef Shark or two. Expect to see occasional Nurse or Leopard Sharks, Manta and numerous Turtles.
Wonder Wall
High currents can sweep in and out of the channel bringing nutrients to fish, corals and sharks alike. Cruising packs of Silvertip Sharks reside along the channel next to Wonder Wall making this a high energy dive with plenty of action.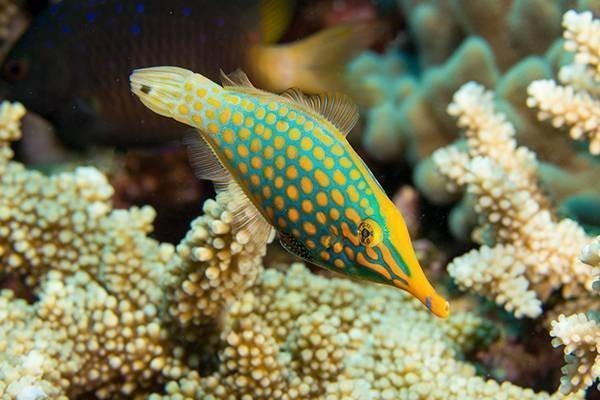 Critter Junction
The area in front of the Resort is a Marine Reserve and guests can snorkel the coral reef flats or shore dive the drop-off to see many of the reefs juvenile species as well as healthy hard and soft corals.
Naiqoro Passageway
One of the best and most baried dive sites in Fiji, The Naiqoro Passageway, is a large Marine Reserve with over 5 dive sites ranging from Coral Gardens to Fast Drift Dives. Dive Site include Spot X, Japanese Gardens and Shark Alley. Naiqoro Passageway offers visibility averaging 50m and sometimes in winter up to 100m. Clear oceanic water enters the pass and pristine hard and soft corals abound.
Expect to see numerous schooling jacks, barracuda, surgeon fish as well as patrolling grey reef sharks, passing manta rays and even the occasional Pacific Sailfish.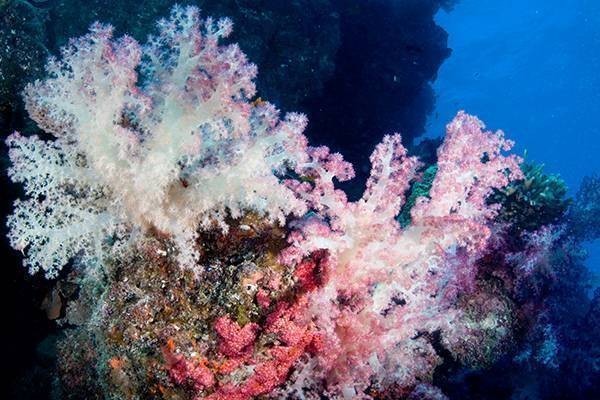 Mad Fish Dive Courses
The PADI Discover Scuba Diving course shows you how to use Scuba equipment in the shallow water out front of the resort and then out into the ocean for a real scuba dive.
The PADI Scuba Diver course is a 2 1/2 day dive course for those of you with limited time.
A certificate and license is issued by PADI which is recognised worldwide.
The PADI Open Water Diver course is a four day programme which consists of theory, shallow water training sessions, and ocean diving.

On completion of the course, you will be a certified PADI Open Water scuba diver, which is a world wide recognised qualification and allows you to dive down to 18 metres.
The PADI Advanced Open Water Diver course extends your diving experiences and knowledge so that you are able to enjoy more advanced diving.