Diving Yasawa Islands
The Yasawa group consist of 12 islands and offers a wide range dive opportunities. Divers can expect to see eagle rays, sea turtles and reef sharks, bump head parrot fishes, scorpion fish, sea stars, sea sponges, colorful hard and soft corals. Most of the Yasawa resorts have access to a local house reef. The best season to see manta ray's in Yasawa is between October and May when tropical water near Naviti island creates a perfect place for manta ray to socialize and find food.
The different Yasawa Islands offer their own individual style and you can do anything from snorkelling with clownfish, manta rays and sharks, to diving through caverns and swim throughs to volunteering to remove Crown of Thorns sea stars. There are quite a few highlights for both snorkelers and divers, including the shark snorkel near Kuata and Waya islands, and the manta ray snorkel near Naviti Island. The shark snorkel can now be done as a day trip from the mainland. The Yasawa Flyer will drop you at Kuata Island where you can base yourself for the day, and pick you up in the late afternoon as it returns to Denarau.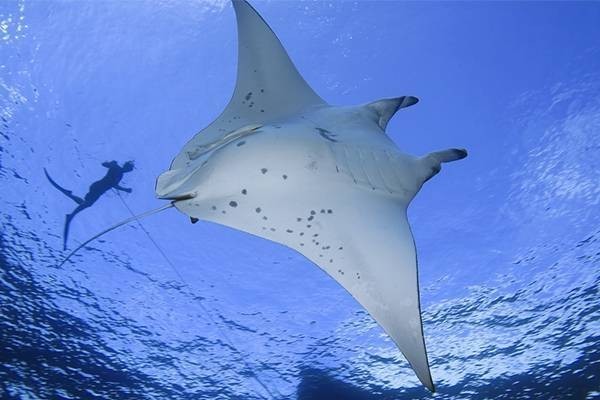 Mantaray Island and Barefoot Manta are both named after the larger ocean mantas (manta birostris) that visit the shallow bays around the islands to feed between May and October. When mantas are sighted, the beach drums are sounded and guests can catch a boat and snorkel above the mantas.

Vertical Blue Diving - North Yasawa
From their beachside base, at the Blue Lagoon Resort, our selected diving partner - Vertical Blue Diving - is perfectly located for access to some of Yasawa's most beautiful dives sites. Vertical Blue Diving offers daily diving trips and a full range of diving courses from Scuba Diving up to Dive Master Courses as well as boat excursions. Their dive sites vary wildly in style, a majority being spectacular Fringing reef style sites, but others being geographical wonders, extreme depths or very specific features. Click here to view all Vertical Blue Diving special offers and discounts, exclusively available when you book a fast ferry ticket with Fijibookings.com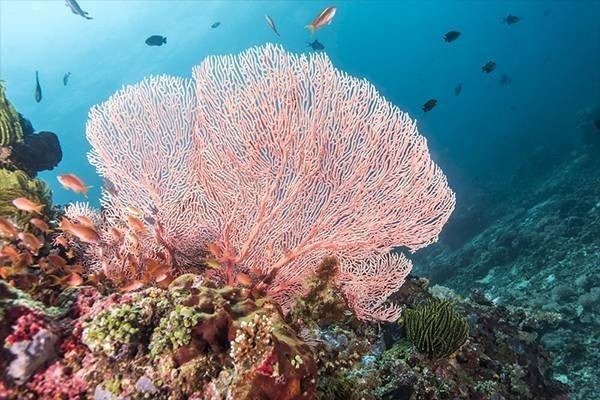 Vertical Blue Dive Sites
The Wreck
The Vertical Blue Wreck dive site is in very shallow warters (around 11m), so anyone can access it. The wreck is a very old coal transport vessel that struck the very outer reef over 100 years ago. Now all that is left is the engine block, and some roof structures. Scattered around the area you will also find the anchors, chain and some other brass objects like port holes.
The Chapel - Shark Dive
The Shark Dive is a lesser known dive. Only Advanced Certified or higher divers are allowed to participate in this dive as this particular site reaches a maximum of 26-27 meters and requires experienced divers due to the nature of the dive. The sharks are not fed during the dive, so it is a very 'natural experience' seeing the sharks in their normal habitat, displaying casual behavior. Sharks that are seen regularly at The Chapel include Bull sharks, Sickle-Fin Lemon Sharks, Grey Reef Sharks, Black Tip Reef Sharks and White Tip Reef Shark.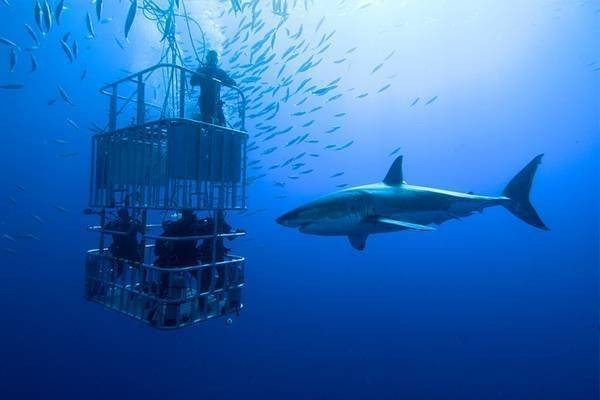 The Maze
The Maze is a volcanic structure of three prominent canyons to get lost in with a series of swim throughs and pathways connecting them. These main three canyons have sheer walls and gravel bottom. They are wide and spacious and due to minimal water movement, they are filed with crystal clear water. Other areas of the dive site are more challenging with small swim throughs, partially enclosed caves and slightly narrow openings.

The depth of The Maze is between 5m and 26m, though the main part of this dive site sits between 16m and 18m. Therefore, the dive site is great for Open Water Divers, with decent buoyancy, and above. Advanced and higher divers being able to utilize a larger area of the site. The Divemaster will always check the comfortability and experience of the group before entering any 'overhead' areas. There is nothing more magical than looking up though the rock structure to see sunlight streaming though the naturally carved labyrinth, the harshness of the structure contrasts beautifully with the softness of the clear gin-coloured water.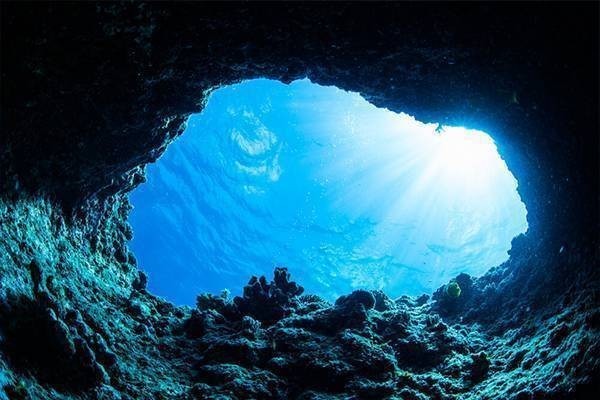 Tom's Thumb
It is evident why Fiji is famously named as 'The Soft Coral Capital of The World' when you dive Tom's Thumb. A colourful contrast to The Chapel and The Maze, Tom's Thumb Dive Site is a 'pinnacle' or column style structure. The top of the structure is in 5 metres of water and fantastic for a safety stop. Due to its shallow nature and isolation from surrounding islands, the reef quality is rich and colourful with thousands of Damsel fish, Anthias, Anemone Fish, Trumpet Fish, Trevally, Moon Wrasse, Blenny (including the Fiji Fang) and sometimes large Hump-headed Maori Wrasse.

The 'Thumb' itself is about 10 meters across and extends down to a maximum of 18-19 meters at the bottom. The sides of the structure are dripping with soft corals, sponges and sea-fans and home to many Flat Worms and Nudibranch. This Dive Site is suitable for any certification level though can be quite restricting for non-certified divers (DSds), as they would not be able to utilize the whole site, but can still enjoy the colours and marine life in the shallow part of the 'Thumb'.