Boats

»

Bula Pass Island Hopping
« Back to search results
Bula Pass Island Hopping
Bula Pass Fiji
The Bula Pass is the best way to explore Fiji's stunning islands, allowing you to hop on and off the fast ferry as it cruises daily through the Yasawa islands. To check prices, departure times and book, simply use the search box on this page, selecting Fiji (Viti Levu) outbound and Yasawa Islands - Bula Pass as your destination. If you prefer to book with the accommodation included, check out our Awesome Pass packages.
Chose your departure date, number of people and click search. From the results that appear, you will be able to select your preferred duration from 5, 7, 9, 11 or 13-days island hopping. Once you complete your passenger info and proceed through secure online checkout, we will send you immediate confirmation and e-tickets. Book your Bula Pass and start exploring the Yasawa Islands!

Please note: Each step of your journey beyond the initial departure date needs to be reserved at least 24 hours prior to travel, and island accommodation must be booked before disembarking the Yasawa flyer.
Boat information
Take a trip on Awesome Adventures Yasawa Flyer 2 which is a high speed catamaran with capacity for 259 passengers departing daily from Denarau Marina Fiji. With three decks, an airconditioned standard lounge and captains lounge and outdoor seating areas, the Yasawa flyer is the perfect vessel to explore the stunning Fijian islands with.
The standard lounge offers indoor seating, a travel desk and a shop whereas the captains lounge offers seats for only 37 passengers who get complimentary drinks and someone to attend to their every needs.
Schedule/Departure times
There are different departure times from Denarau Marina throughout the day depending on where you are going. The Yasawa Flyer leaves daily from Denarau Marina at 08:30 AM and returns at 5:45PM. However Awesome Adventures works together with South Sea Cruises who offer additional departures to specific islands which means you can often choose out of 2 to 4 different departure times throughout the day.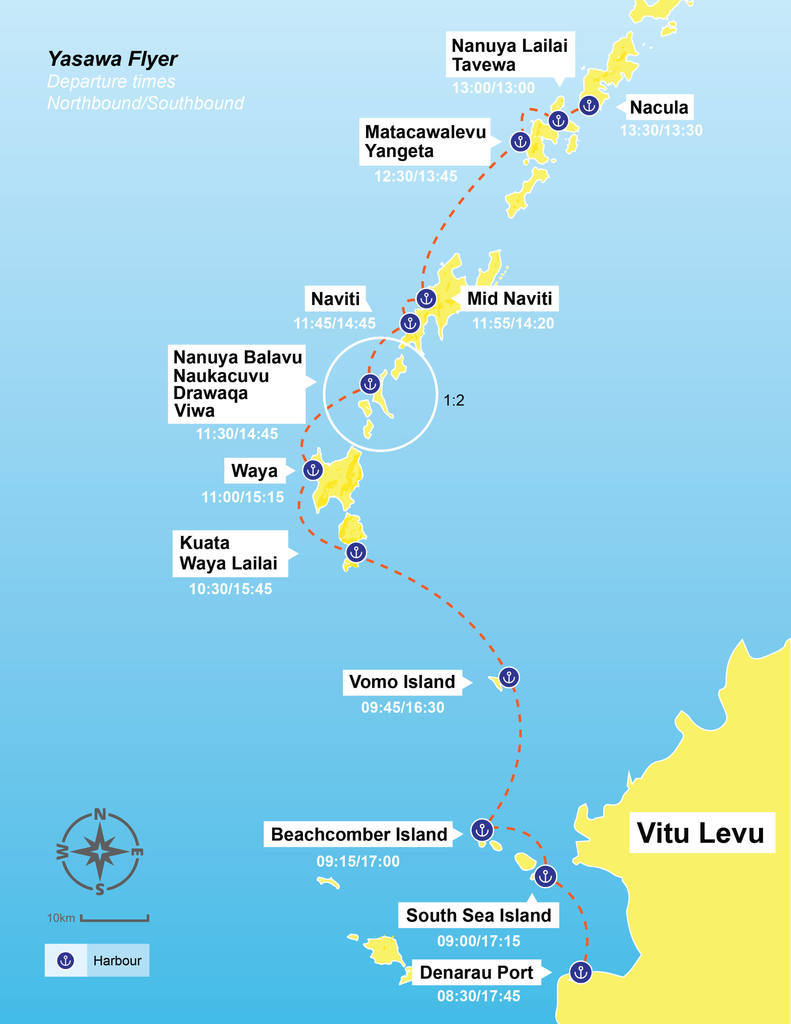 For specific departure times, please check the search results after using the searchbox on your preferred dates.

Transfers
Transfers are provided from selected places within the following areas; Nadi Airport, Nadi, Wailoaloa and Denarau. For a specific overview of the free pick-up points and pick-up times please see the schedule and map in the gallery above.

Island accommodation
Note:
NOT included
in the Bula pass price. If you prefer to pre-book the Bula pass with accommodation included, check out the
Bula Combo Pass
options in our Activities page.
IMPORTANT: All activity and package bookings are subject to availability. Fiji ground staff will receive your booking and reconfirm within 24hrs. Occasionally, the dates and/or times selected may no longer be available. In such cases, every effort will be made to accommodate you with a date change or alternative option. Otherwise a full refund is provided.
Cancellation policy
$100 FJD for changing a booking within 24 hours before departure
$20 FJD for changing a booking with more than 24 hour notice
No charge for changing a booking with more than one month notice.
* Bula pass can be amended up until activation which is 1 day prior to departure.
Note: Awesome Adventures Fiji regrettably announce that due to steep increases in fuel prices they have had to add a fuel surcharge to all products. Mamanuca Islands day cruises and island transfers that depart from Denarau Marina: $5 Adult and $2.50 Child fuel surcharge. Yasawa Islands (including Vomo) all packages, passes and island transfers that depart from Denarau Marina: $10 Adult and $5 Child fuel surcharge. The surcharges are in Fijian dollars and will be collected at check-in prior to departure from Denarau Marina.
To select a ticket, please go back to the search results.
« Back to search results