Yasawa Flyer
Use the search box to check prices and availability on the Yasawa Flyer from Fiji to the Yasawa islands. Simply select from island hopping, one way or return, chose your route and dates then click search.
The Yasawa Flyer departs daily from Fiji (Vitu Levu) to the Yasawa Islands. Sailing from Denarau at 08:45 and returning at 18:00, the fast ferry goes back and forth between more than 12 different Yasawa islands and includes a stop at the Blue Lagoon. You can check prices, live seat availability and make immediate confirmed bookings for your journey using our dedicated search engine at the top of this page.
Fiji Ferry to the Yasawa Islands
Featuring a 259 seating capacity, fully licensed bar, café and outdoor viewing decks the Yasawa flyer is the best way to island hop between Denarau and Yasawa. The journey can take between 30 minutes and 5 hours depending on which island you would like to visit. Show the staff from Awesome Adventures Fiji your booking confirmation(s) at Denarau Marina and they will provide you with your boarding pass. Check-in is possible from 1 hour before departure, and it's strongly reccommended to be at the check-in at least 30 minutes in advance. All relevant details and contact info is found on your e-ticket from us.
CAPTAIN'S LOUNGE TICKETS
The Captain's Lounge is an air-conditioned upper deck on the Yasawa Flyer. Tickets are available to and from the main Yasawa island resorts, simply use our search box and select from the results that appear. The lounge has large wrap-around windows boasting fantastic island views during the cruise, has comfortable seating and couches, and includes complimentary drinks and snacks en route to paradise.
NOTE: The Captain Lounge option can only be booked subject to availability and due to limited capacity and popular demand for this category, the supplier does not provide live availability status. Occasionally the case may arise that Captain's lounge is fully booked at the time of your booking. If this occurs, your trip will be confirmed as standard class and the difference in price refunded.
Yasawa Flyer Schedule:
Departing from:

Departure time:
Stopping at:

North
bound:

South
bound:

Arriving at:

Arrival time:

Port Denarau
(Viti Levu)
08:45

South Sea Island*
Vomo Island Resort
Barefoot Kuata Resort
Wayalailai Ecohaven
Naqalia Lodge
Waya Island Resort
Octopus Resort
Paradise Cove
Barefoot Manta Resort
Mantaray Resort
Botaira Beach (Vuta Bay)
Korovou Eco-Tour
White Sandy Beach
Navutu Stars
Long Beach Resort
Oarsman's Bay Lodge
Blue Lagoon Beach
Nabua Lodge
Safe Landing Resort
Nanuya Island Resort
Boathouse Nanuya
Gold Coast Resort
Coralview Island
Coconut Beach
Waitui Base Camp
Turtle Island
Natabe Retreat

09:15
09:55
10:30
10:30
10:30
10:50
10:55
11:25
11:35
11:35
11:50
12:00
12:00
12:30
12:30
13:00
13:00
13:00
13:00
13:30
13:30
13:30
13:30
13:30
13:30
13:30
13:30

17:00
16:20
16:00
16:00
16:00
15:35
15:30
15:00
14:40
14:40
14:30
14:20
14:20
14:00
14:00
13:00
13:00
13:00
13:00
13:30
13:30
13:30
13:30
13:30
13:30
13:30
13:30

Port Denarau
(Viti Levu)

17:45

* = Please note, Captain's lounge unavailable.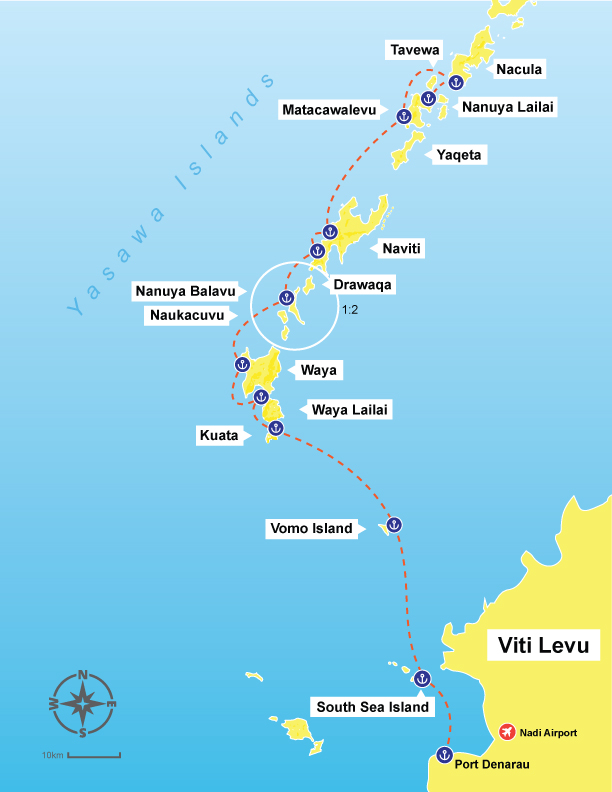 VESSEL DETAILS
The Yasawa Flyer is a high-speed catamaran measuring 27 metres in length with a cruising speed of 24 knots. The vessel features a large air-conditioned lower cabin, upper deck Captain's Lounge, an informative travel desk, plasma information screens and plenty of outdoor seating and viewing areas. The Yasawa Flyer can take up to 250 guests. The Yasawa Flyer offers a standard rate and the captains lounge rate with different prices for adults and children.
SPECIFICATIONS
Craft Name:
Yasawa Flyer 2
Length Overall:
27 m
Type:
High Speed Catamaran
Passengers:
250
Service Speed:
24 knots
AMENITIES
Deck:
3
Air Conditionned Cabin:
2
Outdoor Seating Area:
2
Captain's Lounge:
37 passengers
Information Travel Desk:
Yes
Infromation Screens:
Yes
Communications:
Yes

Cancellation & Amendment Policy
Online bookings can be made up to 48 hours in advance and if you have any questions feel free to check out our FAQ page or send us a message.
For ferry tickets, the full ticket price will be charged for any cancellation less than 24 hours prior to boat departure (though we strongly advise at least 48hrs advance notice due to time zone differences).
If cancelled before this, you will receive a full refund. If you wish to amend your trip to a different date, this can be done free of charge* up to 48hrs in advance.
"No show": if you miss the ferry departure without giving prior notice, no refund can be given. If you are able to give notice, you may still be able to board the next available trip.
No residual refunds for unused components after travel has commenced.
*= Any difference in price due to travel date falling in a different pricing season, or changes to a different service or seat type will be billed or partially refunded accordingly

.