Blog

»

Top 10 things to do in Fiji
Fiji is an archipelago of over 330 islands located in the Pacific Ocean. Each is unique and it's essential to explore several if you want to tick enough places off your bucketlist. Known as a paradise on earth because of its vibrant, friendly culture, white sandy beaches and tropical turquoise waters, Fiji is popular with backpackers, honeymooners, scuba divers and luxury vacationers alike. Here's our list of Fiji top 10 things to see & do:
Top 10 Fiji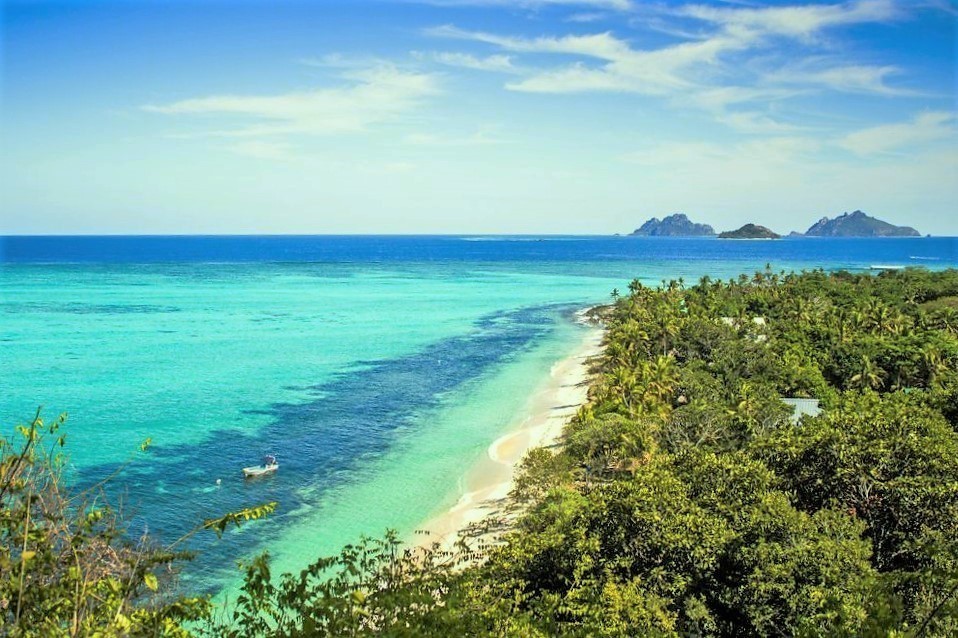 Fiji Island hopping
1. With 333 islands in Fiji, island hopping is the foremost recommended activity when visiting - it really is the perfect destination for exploring by land and sea.
Viti Levu and
Vanua Levu
are the largest islands and a great base to start your Fiji island hopping adventure. Viti Levu is home to the capital city of Suva and known for offering a perfect balance between privacy, luxury, a vibrant atmosphere and a great number of facilities and activities. Vanua Levu on the other hand, is famous for its spectacular underwater world and impressive rainforest. From Viti Levu, the gorgeous
Mamanuca
and
Yasawa
islands are easily reached. Remember the movies Castaway and the Blue Lagoon? These were shot here. Needless to say, you'll find yourself surrounded by natural beauty and peace. Other Islands you should definitely consider when hopping in Fiji are
Taveuni
and
Kadavu
. You can
book
your ferry tickets online with us, or opt for a
package
including your accommodation and activities for the ultimate Fiji getaway!
Fijian Village Tour
2. Combine a Fiji village visit with an inland safari on the Great Taste of Fiji tour. Starting at the foot of
Mt. Batilamu a.k.a. 'Sleeping Giant'

near to Nadi and heading northward through the Sebeto Valley, stunning views and the authentic experience of traditional Fijian culture are guaranteed!
At the end of a scenic drive up the mountain and through the valley, arrive at the picturesque traditional village of Navilawa, in the middle of the Koroyanitu National Park. Guests are welcomed with a Sevusevu
Kava ceremony
in the local community hall. Participate in authentic Fijian cooking with the locals and join the guide for a short walk in the tropical rainforest, or take a tour of the village and their beautiful gardens.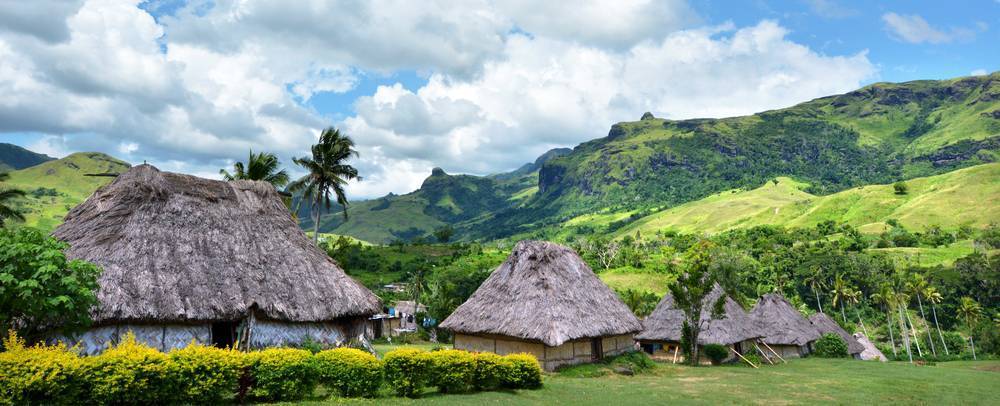 Fiji nightlife
3. When the sun goes down, get ready for another night of fun and dancing until dawn. Most of Fiji's established nightlife is found on Viti Levu, where you'll find some clubs and bars attached to the main resorts. Yet, the smaller islands offer the charm of beach parties and traditional Meke performances - these are not to be missed!
To explore Fijian nightlife on Viti Levu, either visit the Suva or Nadi. A great mix of backpackers and locals come together in these areas to enjoy a beer or a cocktail. In Suva, visit Trap bar, a great place with six bars in one, Purple Haze, a gay-friendly club, and Signlas Nightclub. In Nadi, have a drink at Bounty Bar, play pool while having a cheap beer at Ed's and end the night at Ice Bar (open until 4 am!). Partying can be done every night of the week, but the bars will have longer opening hours on the weekends. Mind that most places require you to leave your shorts at home and dress up a little.
For the ultimate
island beach party
, head over to Beachcomber island, just 30mins from Nadi by boat. This can be enjoyed as part of one of our island hopping itinereries, such as the famous
Bula Combo pass
.
Extreme Sports
4. Go Skydiving above Nadi with Freefall Fiji and experience 70 seconds of freefall above the most spectacular view of tropical islands in the truquoise bay below.
Get on a Fiji jet ski safari to Beachcomber island, enjoy wet & wild rafting on river rapids, go dirtbiking or even shark diving! Fiji has something for every thrillseeker, and the most awesome environments to experience them in!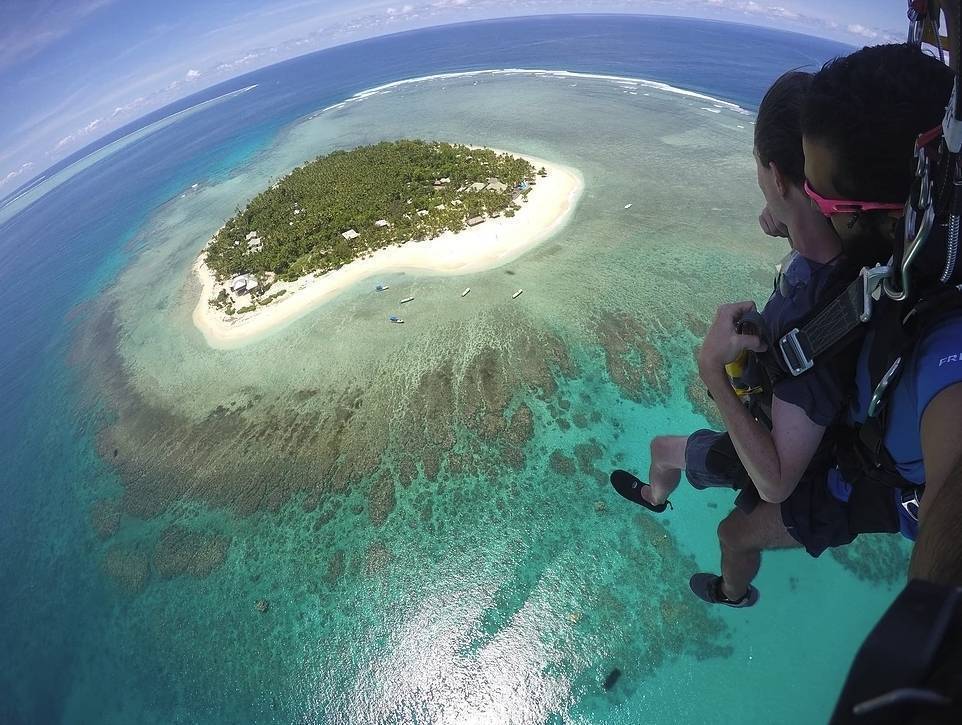 Visit Bouma National Park
5. The Fiji Islands are known for their scenic geography and spectacular natural environment. Some of the most exceptional natural beauty can be found on the island of Taveuni.
Despite its size (third largest), this island is absolutely pristine and home to Bouma National Park. Besides the incredible flora and fauna, you'll find breathtaking waterfalls here. The first, Bouma Falls, is 24 meters high and world-famous for its beauty. Jump off a rock and splash into the Tavoro pool before heading to the next two waterfalls, that are 15 and 10 meters tall. Head to the Waitavala Waterfall to embrace your inner child by sliding down the waterslide. Be prepared to bring home some bruises, but that shouldn't keep you from all the fun.
"Every once in a while, stay silent for a moment and look up, hear the birds sing and see them flying around. Bird watchers will have a marvellous time when visiting Bouma National Park!"
Go on a Sailing adventure to Monuriki island
6. Famous from the Tom Hanks movie "Castaway", this uninhabited gem of an island can be reached on a Seaspray sailing day cruise to the outer Mamanuca islands, off Fiji's western coast (nr. Nadi). Don't forget Wilson!
After Monuriki, you will head to Yanuya Island where you'll get the chance to visit an authentic Fijian islander village. You will be welcomed with a Kava ceremony (except on Sundays), meet the locals and explore. Unlimited drinks on board top things off to make this the most amazing way to experience the mamanuca islands in a day!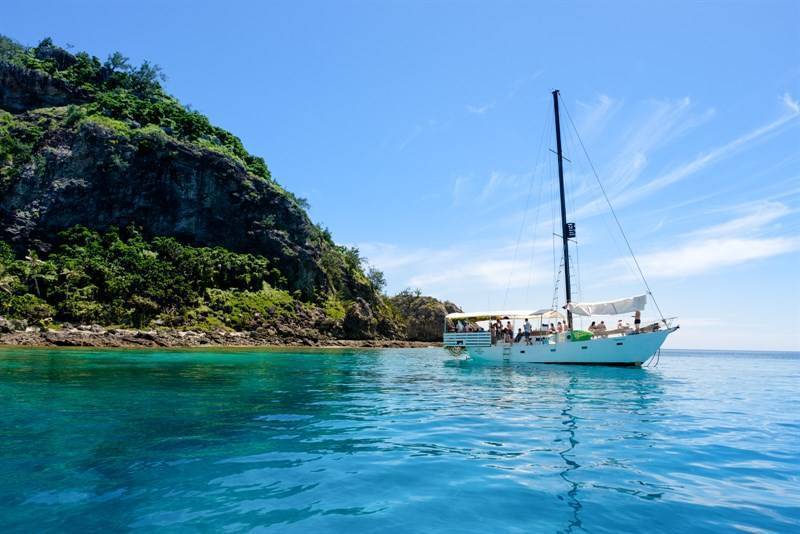 Cloud 9 is real
7. Off the west coast of Viti Levu, above a vibrant coral reef and surrounded on all sides by azure sea, the floating paradise of Cloud 9 awaits. The only destination of its kind in Fiji, it offers an escape to exclusive comfort, unforgettable 360° views of the surrounding tropical islands, and fun watersports throughout the day. An experience like no other!
WIth a woodfire pizza oven and bar, panoramic sundeck, snorkel equipment and so much more, you'll have the perfect Fiji daytrip lined up. Furthermore, a trip to cloud 9 is well within every travellers budget - so if you're going to be in the Nadi region, put this on your itinerary. It's only a 30min speed boat ride away.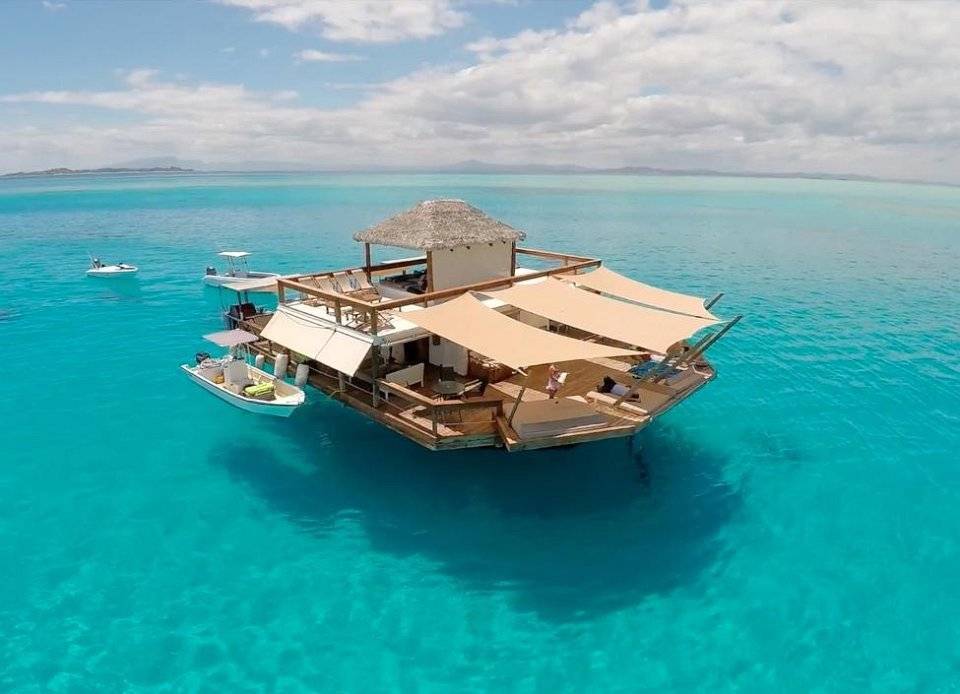 Diving & Snorkelling
8. The underwater world of Fiji is spectacular to say the least. Here, every season is dive season! The water is between 25 and 29 degrees celsius all year, and the marine life is some of the most diverse on the planet. In fact, Fiji is known as the soft coral capital of the world!
Visibility is best between July and December, when the water offers you clear sights between 20 and 40 meters. Considering life in these waters, three of the five sea turtle species present here lay their eggs on the beaches between November and March. Besides this, Fiji is known for offering one of
the best shark dive sites
worldwide in Bequa lagoon. Bull sharks, Tiger sharks and Whale sharks are commonly seen. Additionally, especially in the Yasawa islands you'll find seasonal migration routes of Manta rays. Fiji is home to one of the largest and most colourful reefs in the world, the Great Astrolobe Reef, just off the coast of Kadavu. You can snorkel off the beaches in the shallow waters or decide to hop on a boat that takes you to the deeper areas to go scuba diving. Either way, the Fijian waters guarantee an experience you'll remember for a life time!
"Fiji is home to one of the largest and most colourful reefs in the world, the Great Astrolobe Reef"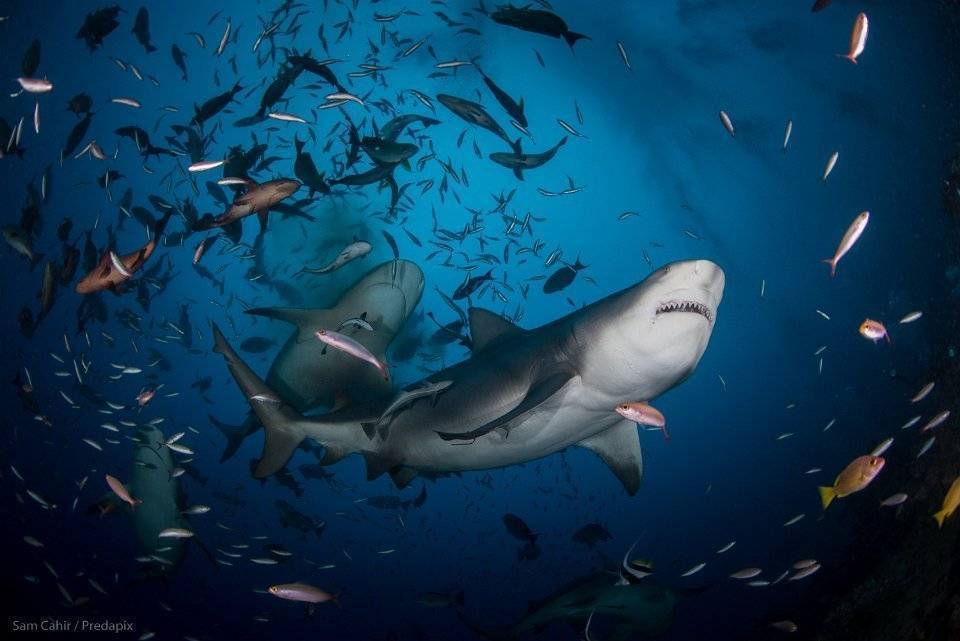 Zipline through the Jungle
9. Up for some more adventure? Head over to the jungle adventure park Sleeping Giant Zip Line on Viti Levu (Fiji's main island). This park boasts 5 ziplines, beatiful waterfalls and a jungle safari.
The longest zipline in the park is 160 meters! The lines are very safe and take you on a flight through the jungle, along pools of warm water and several waterfalls. Enjoy fantastic views of the Pacific ocean and the other Islands in the distance and listen out for the sound of tropical birdsong. This park offers you 5 hours full of fun and laughter, a great outing for the whole family!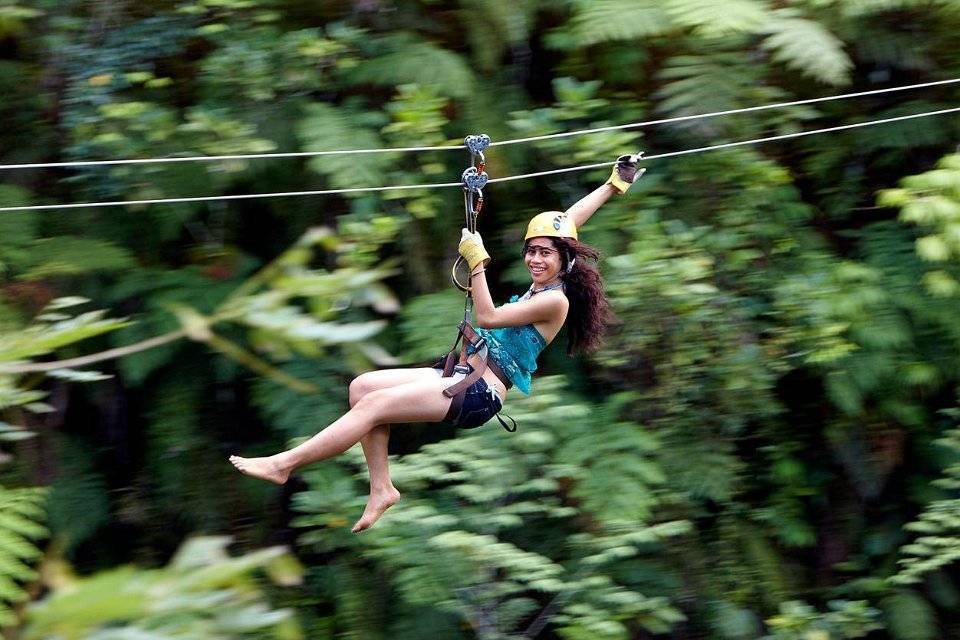 See the famous Blue Lagoon
10. At the heart of the rugged and remote northwestern Yasawa island chain, the ultimate blue lagoon beckons, nestled between tiny islands far from civilization.
This spot was made famous by the 1980's movies of the same name, filmed here. Despite the distance from the mainland and the remote atmosphere, nowadays the Blue Lagoon has become more accesible than ever with 2 daily ferry routes servicing the handful of resorts scattered around the local islands, each of which offer a beachfront location on the lagoons edges! It takes between 5 and 6hrs to reach the Blue lagoon by fast ferry from Denarau port near Nadi, which is why most people opt to go
Island hopping
, stopping a few nights along the way at some of the other Yasawa islands en-route, before ending up at this gem of the pacific.
If you only have a day to spare, you can still see the Blue lagoon in style as well as visit the "sawa-i-lau" caves by taking a
Seaplane daytrip to Yasawa
"Despite the distance from the mainland and the remote atmosphere, nowadays the Blue Lagoon has become more accesible than ever with 2 daily ferry routes"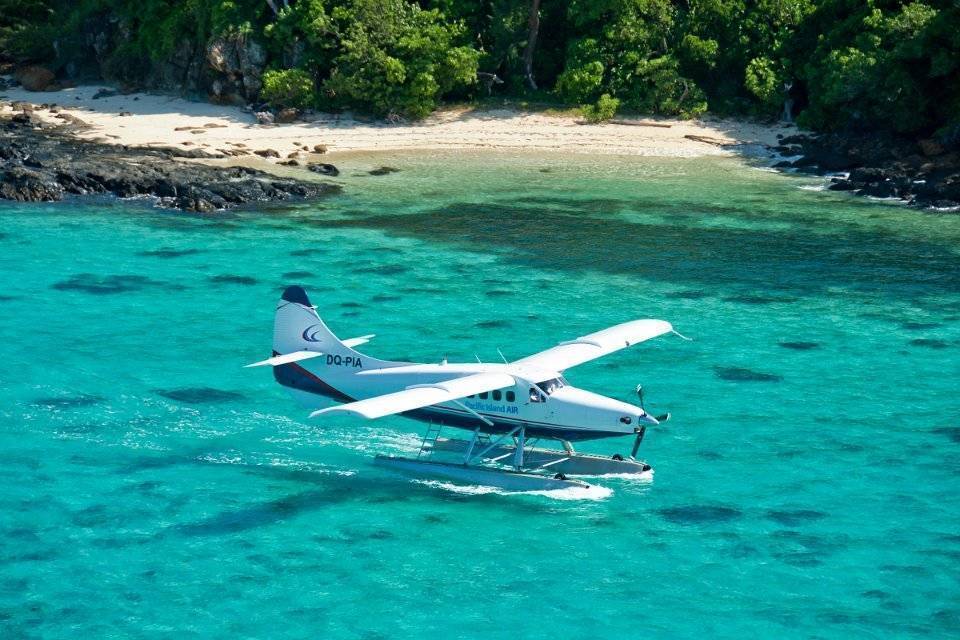 These ten activities are only a few of the endlesss possibilities to experience and explore on Fiji's Islands, but if none of these are on your bucketlist yet, make sure to include at least a few or you'll be truly missing out! Back to the top
About the author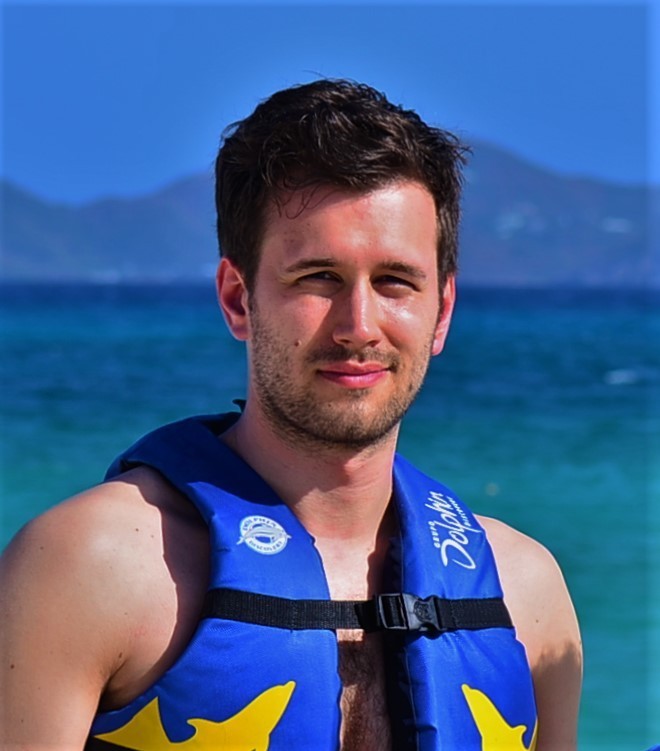 Hi! I'm Nathanael, destination manager at Fiji-bookings.com.
If you have any feedback, feel free to contact me:
[email protected]
Read more about Fiji in our Travel Guide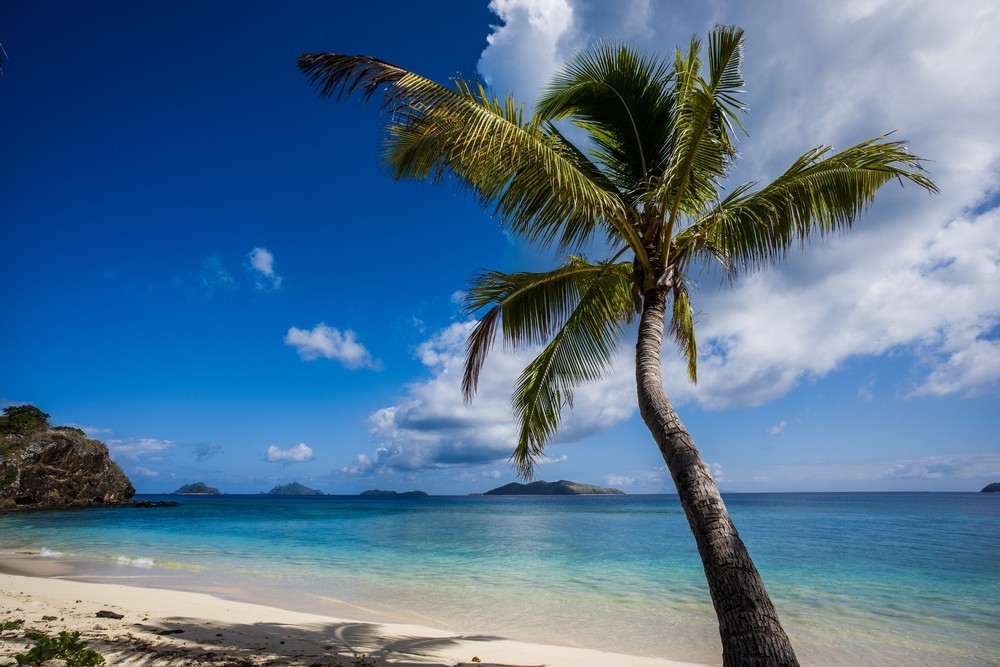 Check our our Fiji Activities