South Sea Island Day Cruise | South Sea Cruises
South Sea Island Day Cruise | South Sea Cruises
Summary
Location: Mamanuca Islands
Duration: 9 Hours
Categories: Tours and Day Trips
South Sea Island Full & Half Day Cruises
South Sea Island Cruises offers two daily tours from Denarau which are the Full Day Cruise and the Half Day Cruise that both visit a little island called South Sea Island. The full day cruise departs daily at 09.00 AM and makes its way back to Denarau at 6PM giving you around 8 hours on the island. South Sea Island is located within the Mamanuca Islands in Fiji with coral reefs, crystal clear waters and colourful tropical fish surrounding the small island.
A sail to South Sea Island is only a 30 minute ferry ride from Denarau Marina. This means that you can make the most out of your day by being on the beach, snorkelling and diving. It may be small in size, but there is enough to do to keep you entertained. There are non-motorised water sports including kayaking and sailing which is often available free of charge.
Combo Cruise
Another tour offered by South Sea Island Tours is the Combo Cruise exploring the outer Island of the Mamanucas after which you can spend around 3 hours on South Sea Island. Enjoy great snorkelling and water sports or take the semi-submersible ride to see spectacular corals and fish life. After lunch you will board a high speed catamaran for your cruise around the Mamanuca Islands.
Food and Drinks
Everyone will gather around rustic tables at a restaurant to watch Fijian performances. You will enjoy a buffet with lunch, salads, beer, wine and soft, drinks. "Find Nemo" day trippers will not join you on the island for lunch, but complimentary drinks are included.
Daily Departures
All cruises depart and return to/from Denarau Marina.
| | | |
| --- | --- | --- |
| Cruise Name | Departure Time | Return Time |
| Full Day Cruise | 09.00 AM | 06.00 PM |
| Half Day Cruise | 12.15 PM | 06.00 PM |
| Combo Cruise | 09.00 AM | 03.00 AM |
Coach transfers
Transfers from Nadi International Airport and most Nadi area hotels are available free of charge.
You must however book your coach transfer in advance.
If you would like a transfer (hotel or airport pickup/drop off), this can easily be arranged after booking. You will receive an email regarding the possibilities within a few days. If you are booking this at short notice, you will find a contact number to organize transport with on your
e-ticket
.
Important:
If you do not book your coach transfer in advance, getting to Denarau Marina is your responsibility and at your own costs.
Coaches meet each vessel arrival at the marina.
For more information, times and the nearest pick-up location to your hotel, please have a look at the transfer map.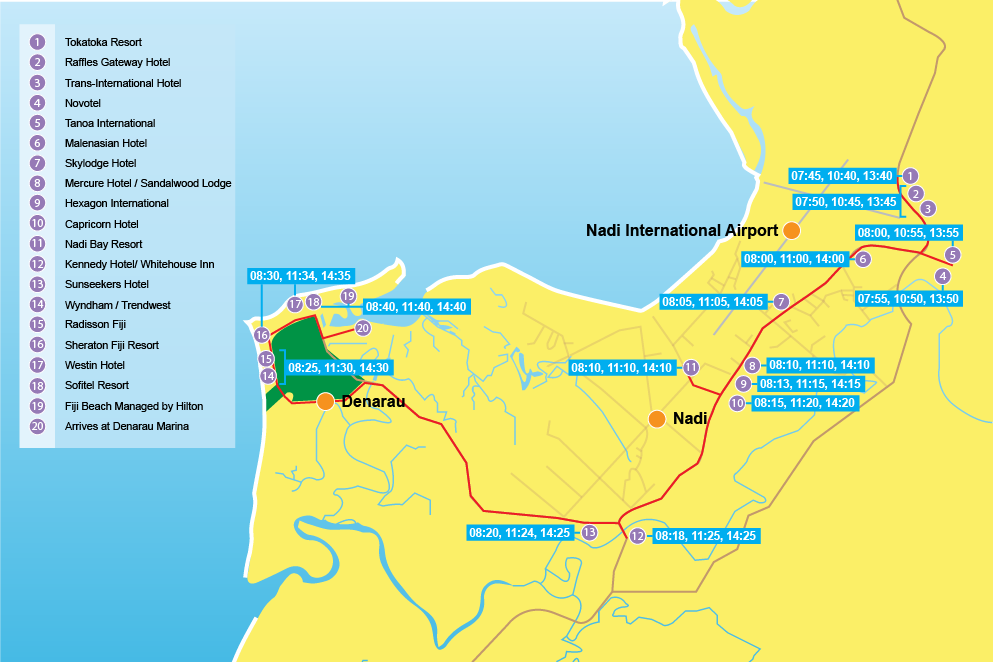 PLEASE NOTE: All activity and package bookings are subject to availability. Fiji ground staff will reconfirm your booking within 24hrs. Occasionally, the dates and/or times selected may no longer be available. In such cases, every effort will be made to accommodate you with a date change or alternative option. Otherwise a full refund is provided.