Mana Island Day Trip
Full Day Trip to Mana Island
A day trip to the ever-beautiful Mana Island is truly a blissful experience, one not to be missed when visiting Fiji.
As you set sail with Souht Sea Cruises from Denaru Port towards Mana Island, you'll get a glimpse of the magnificent Mamanuca Islands along the way. On arrival you'll cruise through Mana's turquoise lagoon before stepping ashore in tropical paradise. Mana Island is the perfect place to relax and unwind, boasting three separate beach areas, lots of palm trees, complimentary cabanas and umbrellas, a beach bar, 2 outdoor swimming pools with poolside bar. There's also 3 restaurants, tennis court, kids club and full-service spa.
Want more action and excitement, then go to the Marine Water Sports shack on South Beach where you can loan snorkels, flippers and paddle boards. Or head to Fiji Surf Co next door for Banana rides, tube rides, jet skis, wind surfing and more all for hire at an additional charge.
Daily Departures
Mana Island Resort is open for day visitors from July 1st to November 17th, and again from December 5th onwards. The South Sea Cruises fast ferry departs Denarau Marina at 9am daily, returning at 6pm.
Food and Drinks
A delicious buffet lunch is included. Drinks are additional.
Please Note: Manta Island Resort does not accept cash for payment of any additional items (credit card only).
Coach transfers
Transfers from Nadi International Airport, Treasure Island and most Nadi area hotels are available free of charge.
You must however book your transfer in advance, which can select during the booking process or arrnge by email later. If you are booking this at short notice, you will find a contact number to organize transport with on your e-ticket.
Important:
If you do not book your coach transfer in advance, getting to Denarau Marina is your responsibility and at your own costs.
Coaches meet each vessel arrival at the marina.
For more information, times and the nearest pick-up location to your hotel, please have a look at the transfer map.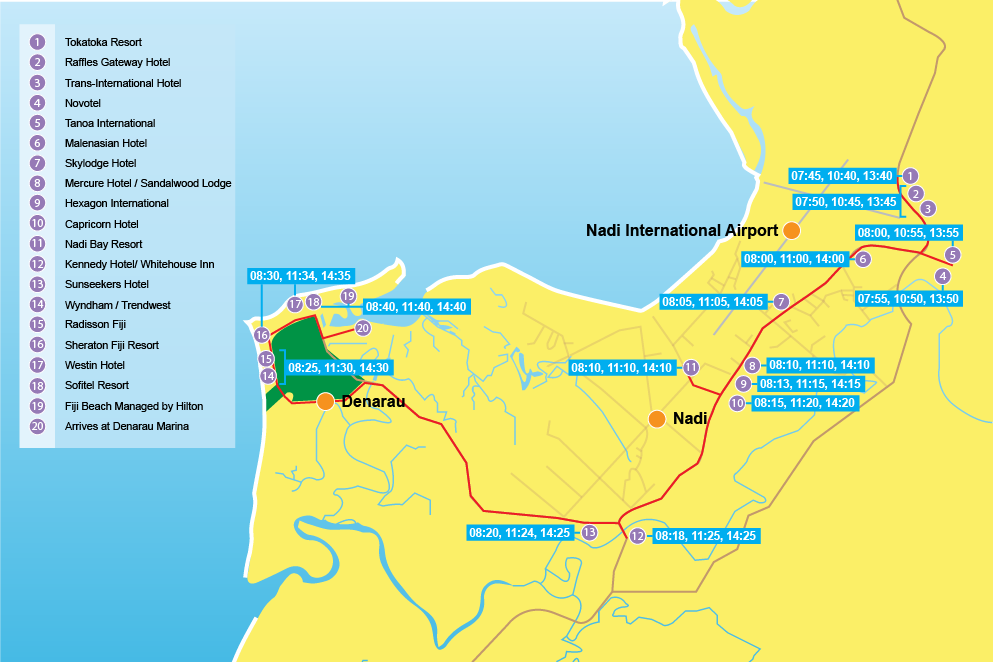 PLEASE NOTE: All activity and package bookings are subject to availability. Fiji ground staff will reconfirm your booking within 24hrs. Occasionally, the dates and/or times selected may no longer be available. In such cases, every effort will be made to accommodate you with a date change or alternative option. Otherwise a full refund is provided.
Cancellations
All cancellations must be received in writing & are subject to a handling fee as stipulated in Fiji-bookings.com general terms and conditions.
South Sea Cruises policy:
Cancellations within 24 hours or No Show = no refund.
Amendment fees – Outside 24 hours, no Fees apply to amend to another South Sea Cruises Day trip or an alternative date, however if the new trip is subsequently cancelled, 100% cancellation fee applies.
Fuel Surcharge Currently in effect for South Sea Cruises Resort Connections, Day Trips, & Awesome Adventures Updated - 1st March 2023.
The retail price of diesel fuel in Fiji as of the 1st of March 2023 remains 34% higher if compared to the retail price of diesel fuel when our current rates were set and issued over a year ago. With the price of diesel fuel in Fiji remaining so much higher than forecasted, the following surcharges are applicable for collection on the day of travel for customers travelling with South Sea Cruises & Awesome Adventures Fiji on the following products and services:
Resort Connections customers travelling to all Mamanuca Island Resorts - $15 per adult / $7.50 per child (5-15 years) for each one-way sector.
Resort Connections customers travelling to all Yasawa Island Resorts (including Vomo) - $20 per adult / $10 per child (5-15 years) for each one-way sector.
Awesome Adventures Fiji Package or Pass customers - $20 per adult.
Day Cruise/Trip customers travelling with us on any Yasawa Islands products - $20 per adult / $10 per child.
Day Cruise/Trip customers travelling to Castaway Island, Malolo Island, Mana Island and aboard the Mamanuca Explorer, or Combo Cruises - $15 per adult / $7.50 per child (5-15 years)
Customers travelling with us to Malamala Beach Club, and to South Sea Island on the Full Day, Half Day or Finding Nemo products remain exempt from paying the fuel surcharge due to the shorter travel distances. South Sea Sailing is also exempt from the fuel surcharge as this product has minimal reliance on fuel.
Applicable customers travelling with us from Port Denarau will be asked to pay the fuel surcharge for all future sectors booked whilst at check-in. Customers who are only travelling with South Sea Cruises on an inbound sector from their island resort will be asked to pay the fuel surcharge upon boarding our vessels and before they return to Port Denarau. Customers can choose to either pay the fuel surcharge via cash, international debit card, or with a credit card, noting that international cards do attract an admin fee of between 2.5% - 3%.
In amending the applicable fuel surcharge, South Sea Cruises would like to thank our customers for understanding the need to recover the increased fuel costs. We also ask that our Terms & Conditions are noted as follows "South Sea Cruises reserves the right to alter prices, apply a fuel surcharge, cancel departures, arrange alternative transport, and vary itineraries and services if necessary."
For those customers that aren't aware, the retail price of diesel fuel in Fiji is set by the Fijian Competition & Consumer Commission (FCCC) and is only amended on the first day of each month. The price set is based on a range of factors globally but most noticeably by movement in the Means of Platts Singapore (MOPS) market, international freight rates and foreign exchange rates. South Sea Cruises remains committed to reviewing the fuel surcharge each month and will do so again on the 1st of April 2023 once any amendment to the retail price of fuel is announced.
Summary
Location: Mamanuca Islands
Duration: 1 Day
Categories: Tours and Day Trips
Check availability