Nadi

»

Feejee Five Holiday Pack
Feejee Five Holiday Pack
Fiji Five - 11 Day Fiji Holiday Pack
Explore the real Fiji in this carfeully put together holiday packed full of fun and adventure with Feejee Experience. There's so much more to Fiji than the stunning beaches (though you will visit your fair share on this trip!), so book now to discover the secrets this tropical paradise exhibits.
Highlights:
South Pacific Dance, Knife & famous Fire dancing Show
Loads of time to relax, swim, snorkel and dive on the best Fijian beaches
A 30 minute trek through the tropical jungle
Swim at the biggest coastal waterfall in Fiji
Scenic drive through Suva
The 7 chamber historical Snake Cave visit
Sevusevu, a Fijian Kava ceremony
A village visit and a chance to interact with locals
Bilibili rafting
Market visit
Hot Pools and Mud Pools
3 Island Experiences: Beachcomber, Blue Lagoon and Mantaray Island
Description
An 11 day/10 night trip around the main Fiji Island Viti Levu as well as unforgettable stays on Robinson Crusoe Island, Beachcomber Island, Mantaray Island and Blue Lagoon Resort in the Yasawas!
Features all the activities listed above and all transport including boat transfers and a tour guide and driver, in an air-conditioned vehicle for four days around Viti Levu. The pass includes a breakfast at Resort at Pacific Harbour & Golden Point Resort.
Meal plans are payable direct upon check in at your resort at Robinson Crusoe Island, Beachcomber, Blue Lagoon and Mantaray Resort. All other meals are between FJD$20-40 per meal at all the resort restaurants. Lunch on day 1 and day 3 is inlcuded.
Feejee Five Map: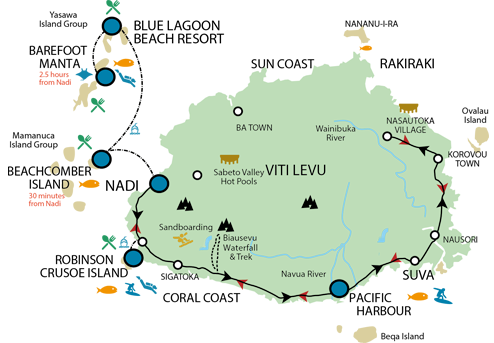 Fiji Five Travel itinerary:
Day 1 0800hrs: Nadi to Robinson Crusoe Island including Nadi Town, jungle boat trip and the afternoon on the island including a snorkeling trip to a nearby reef! (Note: A compulsory meal plan of FJ$70 per person applies at Robinson Crusoe Island which is payable direct upon check-in.)

Day 2 0900hrs: Robinson Crusoe Island to Pacific Harbour along the stunning Coral Coast. Stop in Sigatoka town and buy your own lunch. Enjoy Rainforest Trek and waterfall in Coral Coast. Check in at Uprising Beach resort or Club Oceanus and spend late afternoon at the Resort.

Day 3 0745hrs: Pacific Harbour to Golden Point Resort, Rakiraki including Suva City drive through tour. Visit the 7 chamber historical snake cave before reaching Nasautoka Village for kava ceremony and village tour, interact with the locals and kids finish your day with bilibili rafting in the Wainibuka River. Lunch is optional but can be provided by the village for just FJ$10.00. You will need to wear a sarong for the kava ceremony.

Day 4 1300hrs: Golden Point Resort Rakiraki to Nadi. Spend morning half day at the Resort. Opportunity to go for snorkelling. Have an Indo Fijian lunch (at own cost) at the Resort before departing for Nadi. Drive through the scenic Indo-Fijian sugar cane belt, visit Ba Market then to the Sabeto hot pools before finishing your Viti Levu trip back in Nadi.

Day 5 0730hrs: Nadi to Beachcomber Island, arrive at this amazing island late morning, just in time for lunch. Transfer from your hotel to Anchorage Jetty will be done by Beachcomber Cruises. Pick up time will be at 7.30am from your hotel. (A compulsory meal plan of FJ$99 per person per day applies at Beachcomber Island which is payable direct upon check-in.)

Day 6 Beachcomber Island, spend a day doing activities or relaxing on your tropical paradise!

Day 7 0915hrs Beachcomber Island to Blue Lagoon Resort. Your first experience of the amazing Yasawa Islands Group. Arriving mid afternoon to take in the gorgeous beach and fun activities on offer. Pickup from Beachcomber Island at 9.15am on Yasawa Flyer by Awesome adventures Fiji. (A compulsory meal plan of F$119 per person per day applies at Blue Lagoon Resort which is payable direct upon check-in.)

Day 8 Spend your day at Blue Lagoon Resort at leisure

Day 9 1300hrs: Blue Lagoon Resort to Barefoot Manta. Enjoy your afternoon snorkeling, swimming or participating in one of the many resort activities. Pickup from Blue Lagoon Resort on Yasawa Flyer at 1.00pm. (A compulsory meal plan of FJ$105 per person per day applies at Barefoot Manta which is payable direct upon check-in. Additional Lunch is at a cost of FJ$25 per person.)

Day 10 Your last full day in the Yasawa's, go diving, or snorkelling with Mantarays!*

Day 11 1415hrs: Barefoot Manta to Nadi, depart the island on Yasawa Flyer at 2.15pm and get back to Nadi early evening. Transfer from Port Denarau to your accommodation in Nadi or to the Airport will be provided by Awesome Adventures Fiji.
*While Mantarays are a common sighting especially in season, please note - their presence cannot be guaranteed and some luck is required!
Transfer Info
Free pickup is available at all major resorts and hotels in the Denarau/Nadi area. If you are booking this at short notice, you will find a contact number to organize transport with on your e-ticket after completing the booking.
Operation Days:
Departing Nadi on Wednesday and Saturdays
Accommodation:
| | |
| --- | --- |
| Resort Name | Nights |
| Robinson Crusoe Island | 1 Night |
| Resort at Pacific Harbour | 1 Night |
| Golden Point Resort | 1 Night |
| Nadi Hostel | 1 Night |
| Beachcomber Island | 2 Nights |
| Blue Lagoon Resort | 2 Nights |
| Mantaray Island | 2 Nights |
Terms and Conditions
PLEASE NOTE: All activity and package bookings are subject to availability. Fiji ground staff will receive your booking and reconfirm within 24hrs. Occasionally, the dates and/or times selected may no longer be available. In such cases, every effort will be made to accommodate you with a date change or alternative option. Otherwise a full refund is provided.
Compulsory meal packages must be purchased on arrival at some of the resorts. See itinerary tab for details.
Cancellations
All cancellations must be received in writing & are subject to a handling fee as stipulated in Fiji-bookings.com general terms and conditions.
Cancellation received 22 -30 days (inclusive) prior to travel – 25% of the pass rate will apply

Cancellation received 8 - 21 days (inclusive) prior to travel – 50% of the pass rate will apply

Cancellation received 7 days prior to travel - full charge applies
Refunds and Compensations
TTF is not responsible for the disruption of transfers due to bad or unusual weather conditions and refunds or compensation is not payable if weather conditions force cancellations or amendment to transfers.

Additional expenses or inconvenience which may be caused directly or indirectly by events such as a booking error, late

arrival / departure

of flights, civil disturbance, natural disaster, acts of gods, acts of government or events beyond the control of TTF will not be covered by TTF nor will TTF be liable for these.

In these

instances

TTF will ensure it manages the situation to the best of its ability with each and every passenger via means available.
Summary
Location: Nadi
Duration: 11 Days
Categories: Adventure, Multi-island packages
Check availability