Denarau

»

7 Night Escape to Paradise Cruise
7 Night Escape to Paradise Cruise
Blue Lagoon Cruises
Explore the treasures of the South Pacific Ocean! Visit spectacular Yasawa and Mamanuca Islands with Blue Lagoon Cruises. You will sail to uninhabited tropical islands, private beaches and lagoons. Experience an unforgettable 7 night cruise in paradise!
Blue Lagoon Cruise Fiji pride themselves on giving visitors to Fiji the best possible insight into this wonderful pacific island nation. To experience the true essence of Fiji, you need to step ashore onto uninhabited islands, luxuriate in the warm tropical sea and discover the colourful world below. Meet local Yasawan villagers, savor traditional Fijian food, enjoy island walks, marvel at the most sacred of caves and of course, bask on the palm-fringed beaches!
Inclusions
Transfers from Denarau/Nadi hotels on day of cruise departure
All scheduled cruise excursions and activities (and ship to shore transfers)
Cruise accommodation with ensuites facilities
Complimentary mini bar (filled once on the day of departure) with a selection of premium beer, soft drinks, sparkling wine & snacks
All meals including breakfast, morning tea, lunch, afternoon tea and dinner
All activities (except Diving) - see details under "Cruise Details"
Tea, coffee, filtered water, juice included and available all day long
Captains complimentary champagne cocktail
Welcome gift of a reusable metal drink bottle and sulu (sarong) per person and a branded tote bag per cabin
Use of snorkelling gear and non-motorised water sports equipment at Nanuya Lailai
Traditional Fijian entertainment
All port charges, taxes and entrance fees for activities and village visits
All Orchid Deck cabins include a welcome fruit platter, complimentary daily stocked mini bar (beer, wine, soft drinks & bottled water), a Pure Fiji sun care pack, in cabin and espresso coffee machine and tea making facilities, all meals, afternoon tea, cruise entertainment, entrance fees and activities in the cruise itinerary.
Departures and Check-in
Departs from Port Denarau every Friday at 3.00pm on the M.V. Fiji Princess.
Returns to Port Denarau the next Friday at 10.00am.
Check-in takes place at Port Denarau, Viti Levu, at the dedicated Blue Lagoon Cruises check-in counter, from 1.30pm until 2.30pm.
Note: Transfers are also available from Mamanuca Island Resorts direct to the M.V. Fiji Princess.
Blue Lagoon Cruises have a minimum age policy of 14 years for children travelling with parents outside of special 'Family Cruise Departure Dates'. Check Family cruise details in terms and condition page.
Blue Lagoon Cruise Fiji
Day 1: Friday - Modriki Island
Welcome on-board! Your journey will start at Port Denarau from where you will sail towards the beautiful Mamanuca Islands. The first night you will spend anchorage near Modriki Island, where famous Tom Hank's movie Cast Away was filmed. Enjoy evening canapes and cocktails following the Captains an a-la-carte dinner. Afterwards the crew will entertain you until late night with singing, dancing and guitar playing. Achorage Modriki Island.

Available Activities: Visit to Modriki Island, Captain's Dinner
Day 2: Saturday - Soso Bay
After breakfast you will enjoy a swim in the beautiful lagoon if sea condition permit. After lunch you will have an opportunity to meet the locals of So-so village. Following drinks and a traditional Thali dinner,you will spend your evening enjoying dancing and watching Bollywood movies. Anchorage Sousa Bay.
Available Activities: Beach Swim, Village Visit, Shark Snorkelling, Traditional Thali Dinner
Day 3: Sunday - Naukacuvu Island
Sunday after breakfast you will have an opportunity to attend the Fijian church service. After visiting the local church you will cruise south to the Naukacuvu and Narara Islands where you will try traditional Sunday roast lunch. The Chef will teach you how to cook the traditional dish called 'Kokoda'. After dinner you will be invited to play Fijian style Bingo with lots of laughs and good prizes. Anchorage Naukacuvu Island.
Available Activities: Sunday Roast, Cooking Lessons, Reef Snorkelling
Day 4: Monday - Yalobi Bay
Fiji Princess will arrive at the stunning southern tip of Waya Island, you'll be sure you are lost in paradise. The backdrop of the neighbouring Waya Lailai volcanic formations is breathtaking. Spend the remainder of the day swimming, snorkellingand relaxing. Fiji style high tea will be served following a cooking lesson on how to make 'Roti in Lolo'. Watch the sunset during happy hour. Tonight enjoy the Captain's Dinner welcoming the new cruise guest arrivals. Anchorage Yalobi Bay.

Available Activities: Swimming, Fiji Style High Tea, Reef Snorkelling, Cooking Lessons
Day 5: Tuesday - Blue Lagoon
Today's destination is the famed Blue Lagoon. This superb stretch of water is ringed by islands and on one of those islands is Blue Lagoon Cruises very own private island peninsula. Check out the stunning azure water and watch as the crew position the vessel right up to the beach and tie her off to the coconut trees! Happy hour with canapés will be served on shore followed by a very special night enjoying a traditional Lovo meal cooked underground. Dine on the beach under the coconut palms and tropical stars. The evening will continue with Fijian meke, singing, dancing and story telling by local villagers. Anchorage Blue Lagoon.

Available Activities: Explore Blue Lagoon Cruises Private Island, Traditional Lovo Cooked Meal, Fiji Style High Tea, Snorkelling, Fish Feeding, Volleyball
Day 6: Wednesday - Sawa-i-Lau Island
In the early morning we will offer you an easy guided panoramic walk and an opportunity to visit the local shops and the shell market. After you will have a chance to learn how to weave a basket and try guided snorkelling. Lunch will be served on board and after you will head to visit amazing Sawa-I-Lau caves. The guide will take to the local villa where you can enjoy different food prepared by the village women. You wil have proper Fijian style dinner. Anchorage Sawa-I-Lau.
Available Activities: Guided Walk, Explore Sawa-i-lau Caves, Kava Ceremony, Village Style Seafood Dinner
Day 7: Thursday - Drawaqa Island
You will head to Drawaqa Island, where marine biologist will join us for a presentation about the volunteer work and local marine life in Fijian area. Between May and October you will have an opportunity to swim and snorkel with the manta rays. Furthermore we will offer you to visit the local school. Barbeque dinner will be served under the stars. Party night Fiji style. Anchorage Drawaqa Island.
Available Activities: Local School Visit, Marine Biologist Presentation, Snorkel With Mantarays (seasonal), BBQ on Skydeck
Day 8: Friday - Port Denarau
Breakfast will be served on-board as Fiji Princess cruises back toward Port Denarau. Along the way you will be serenaded with a traditional Isa Lei farewell song by the crew, as your exploration of the beautiful Yasawa Islands comes to an end.
Dress code: on-board casual and informal, to enter villages men will require a Sulu, which will be provided and women need to dress modestly with shoulders covered.
Fiji Island Cruise Map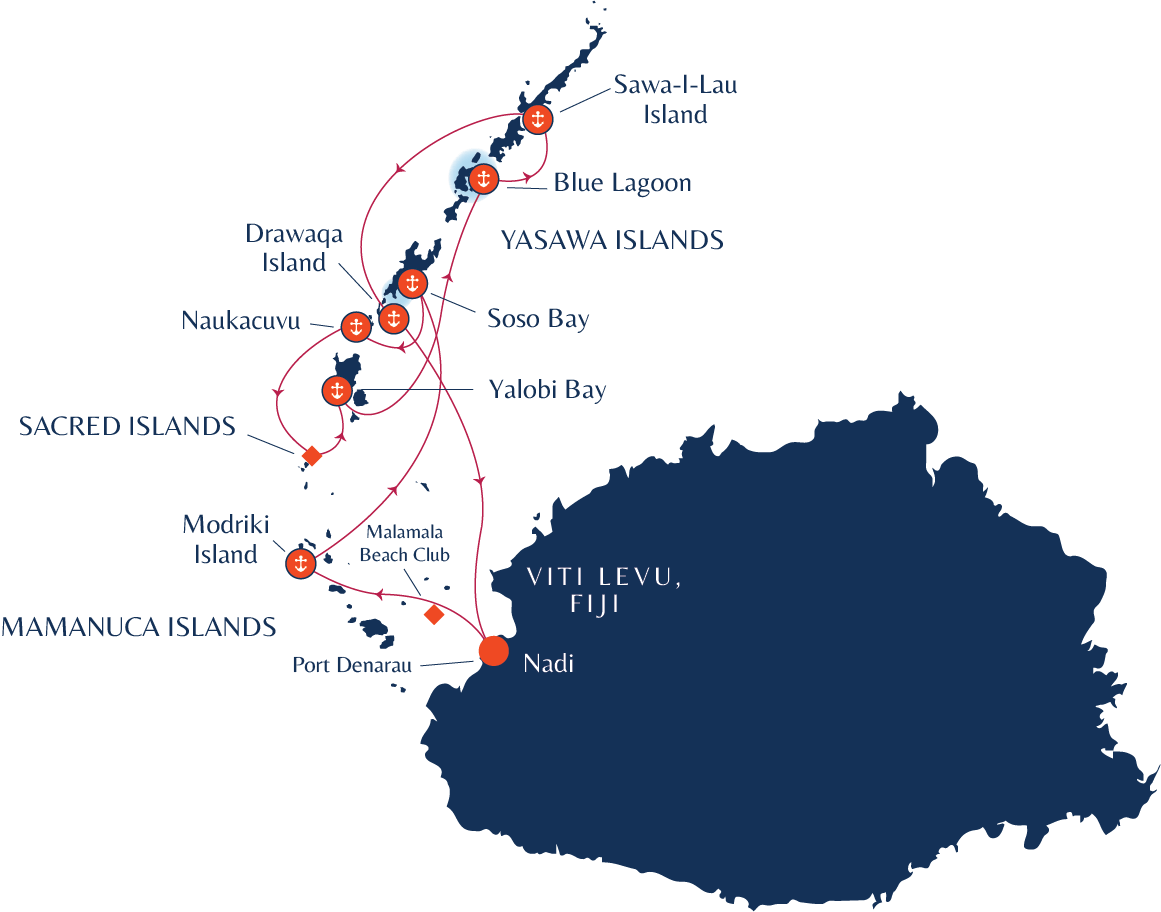 Fiji Princess
The M.V. Fiji Princess will be your home away from home for the duration of your cruise, except you'll wake up in a different stunning location each morning and with 70 years' experience cruising the islands of Fiji, Blue Lagoon Cruises know all the best places to take you! Who better to show you their home than the Fijians themselves? The all-Fijian crew and with a high crew member-to-guest ratio ensure you will be well looked after. The crew will quickly know you by name and every way you turn there will be a big 'BULA' welcome.
The small size of the cruise ship is just one of the reasons it is so special. Measuring 179 feet (55 metres), the M.V. Fiji Proncess can access bays and islands that would be impossible to reach in a larger ship – it can get so close to shore that it's possible to tie off to a coconut tree and you can swim to the beach!
With a maximum of 68 passengers and up to 30 Fijian crew, you know you will be well looked after with true Fijian hospitality
Due to the small number of guests, no matter which beach or island you visit, there won't be crowds. Most of the time, guests are the only people on the beach!
The vessels décor is fresh and nautical, with echoes of the romantic age of cruising gone by
You only need to unpack once and then let your floating hotel take you from idyllic place to idyllic experience – everyday somewhere and something different
Visit traditional Fijian villages, swim in crystal-clear lagoons and gaze out on tropical vistas you thought only existed in movies
Guests often make friends for life, given the social atmosphere of small ship cruising
If conditions are rough due to winds and swells, it's easy to alter itinerary to cruise on the sheltered side of the islands
Cancellation Policy
Blue Lagoon bookings cancelled 60 days or more prior to cruising date will incur a charge of 10% of applicable fare.
Blue Lagoon bookings cancelled within 60 to 31 days of cruising date will incur a charge of 60% of applicable fare.
Blue Lagoon bookings cancelled within 30days or cruising date will incur a charge of 100% of total services booked.
Booking Policy
If you want to adjust your booking, the fee will be charged per booking for any mirror changes made after the booking has been placed with Blue Lagoon Cruises.
If however a mirror change is a change of date only with a similar value booking still being held then Blue Lagoon Cruises, at its discretion, will waive the cancellation fees if it has the ability to fill the vacated booking.
Child Policy
Minumum age policy for kids is 14 year old with parents outside of special 'Family Cruise Departure Dates.
Child age is 5 to 13 years inclusive - child rate based on 2 children sharing or 1 child and 1 adult sharing.
Single child in own cabin is at full adult rate.
Children under 5 years free - based on triple share cabin.
Transfers
Launch transfers from selected Mamanuca resorts to the Fiji Princess is available at an additional cost.
The Mamanuca resorts that transfers are available from are Planation Island Resort, Lomani Island Resort, Musket Cove Island Resort, Malolo Island Resort, Likuliku Lagoon Resort, Tropica Island Resort, Castaway Island Resort, Mana Island Resort, Tadrai Island Resort, Matamanoa Island Resott (via Fiji Princess tender), Tokoriki Island Resort.

Family Cruise Departures: Child age is 5 to 13 years inclusive - child rate based on 2 chldren shring or 1 child and 1 adult sharing. Single child in own cabin is at full adult rate. Children under 5 years free - based on triple share cabin.
Family Cruise Departure Dates:
7N Escape to Paradise: 14 April 2017, 21 April 2017, 7 July 2017,14 July 2017,29 Sep 2017, 22 Dec 2017, 5 Jan 2018.
Summary
Location: Denarau
Duration: 7 Days
Categories: Cruises
Check availability