Island Time - 1 Coconut Simple Stays | 3 islands (inc. basic meals)
Island Time - 1 Coconut Simple Stays | 3 islands (inc. basic meals)
Island Time
6 days - 5 nights - 3 islands - Simple Stays (basic meals included)
Special package to 3 of Fiji's most distinct islands. Enjoy six days in the amazing Yasawa and Mamanuca Islands, relaxing on pristine beaches and experiencing a vareity of activities. You'll travel aboard the Yasawa Flyer, starting in the famous Blue Lagoon region and ending up on gorgeous South Sea or Beachcomber island.
1 Coconut Accommodation
The Coconut system is a unique accommodation grading system in Fiji. 1 coconut "simple stays" means the accommodation will be basic but cheerful. If you need a hairdryer, these are not for you, and you should opt for the more comfortable
2 coconut
relaxed resorts instead. Resorts are typically located on or near a beautiful beach. Usually there is no hot water but the local water supply is naturally tepid. Bring your own towel, soap and other necessities. All resorts are owned and run by Yasawan islanders who love hosting and sharing their lives with the guests.
Meals are included
in the accommodation price and packages. Meals are simple and filling are served at specific times of the day. (e.g. breakfast. 8am – 9am) providing an opportunity to meet fellow travellers.
Full Monty Upgrade
By ticking the "Full Monty Upgrade" box from the options in the menu (after selecting your accommodation type), your coconut cruiser package will also include a wide selection of the 'must do' activities on each island. This allows you to experience the full version of the suggested itinerary. If you're into activities such as watersports, sailing, Fijian cooking, snorkelling, and hiking, then don't forget to add the 'Full Monty' extra to your order!
Island Itinerary
After you have booked, you will be contacted by email to make your selection for where you'd like to stay from the following list of options:
Day 1 & 2
Long Beach Resort (Dorm or Deluxe Garden View)
OR
Gold Coast Resort (Dorm or Bure)

Day 3 & 4
White Sandy Beach (Sunkiss Dorm or Beachfront Bure)
OR
Korovou Eco-Tour Resort (Dorm or Beachfront Bure)
Day 5
South Sea Island (Dorm)
OR
Beachcomber Island Resort (Private Lodge Room)
Day 6
With the 'Full Monty' package (see activities tab), day 6 is the day for your last activity, otherwise relax at leisure before returning to Fiji mainland.
Schedule/Departure times
The Yasawa Flyer leaves daily from Denarau Marina at 08:30 am and returns at 5:45 pm. When booking this package, it is advisable to ensure your flight arrival/departure does not occur on the day of departure or return.
Island Time Map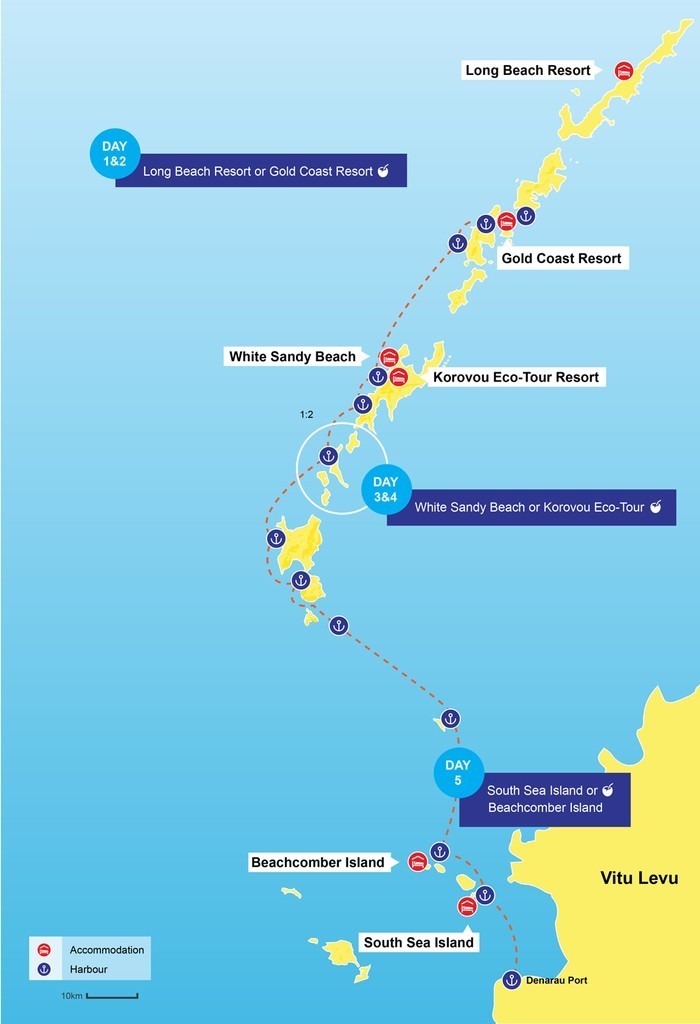 High Speed Ferry Transport
The transport to and between islands will take place aboard the Yasawa Flyer, and the South Sea Cruiser, both high speed catamaran ferries. Both boats are of similar design and proportions, with a seating capacity of 250+ and featuring air conditioned seating area, bar, café and outdoor areas where you can enjoy amazing views of Fiji.
Transfers
Transfers are available from Denarau Marina, Nadi and Wailoaloa areas. Please check the map to see the free pick up/ drop off areas and timetable.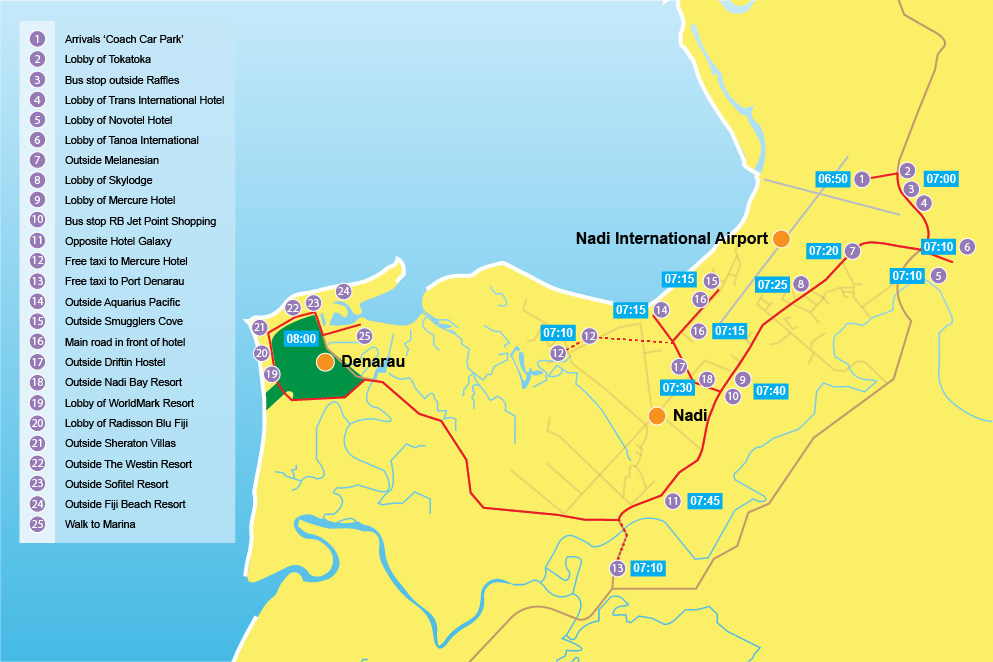 Full Monty Island Activities
With the "Full Monty" upgrade (which you can select from the menu), the following activities are included per island/resort:
Day 1:
At Long Beach Resort - Snorkeling Trip to the Blue Lagoon by boat
At Gold Coast Resort - Fijian Village Visit
Day 2:
At Long Beach Resort & Gold Coast Resort - Sawa-I-Lau Caves Trip
Day 4:
May to Oct - Swim with Manta Rays, Nov to Apr - Snorkelling at Reef Sites
Day 6:
At South Sea Island & Beachcomber Island Resort - Seaspray Day Adventure to Monuriki (island from the "Castaway" movie)
Note:
Activities usually take place on the even days of your trip (2, 4, 6, et.c), and as such the above listed activities are often an either/or choice and cannot all be experienced in one intinerary (i.e., you will have to make a selection). Additionally, some Full Monty activities are available only at certain resorts so where you stay determines the specific activities available to you. In some cases, an activity may not be available - in which case an alternative and equally great activity will be offered.
Terms & Conditions:
All activity and package bookings are subject to availability. Fiji ground staff will receive your booking and reconfirm within 24hrs. Occasionally, the dates and/or times selected may no longer be available. In such cases, every effort will be made to accommodate you with a date change or alternative option. Otherwise a full refund is provided.
Cancelation Policy:
If you cancel your booking 7 days before departure, a 100% cancelation fee will apply. If you cancel 14 days before the departure, a 50% cancellation fee will apply. If you cancel less than one months before the departure, a 25% cancellation fee will apply.
If you want to change your trip:
$100 FJD for changing a booking within 24 hours before departure, $20 FJD for changing a booking with more than 24 hour notice, No charge for changing a booking with more than one month notice.
Fuel Surcharge: De to steep increases in fuel prices a fuel surcharge has been added to all products. To the Mamanuca Islands: FJ$5 Adult and FJ$2.50 Child fuel surcharge. To Yasawa (including Vomo): FJ$10 per Adult and FJ$5 per Child. These will be collected at check-in prior to departure from Denarau Marina.
Summary
Location: Yasawa Islands
Duration: 6 Days
Categories: Island Time, Multi-island packages
Check availability