Fiji Discovery - 1 Coconut - 4 islands | Full Monty (Basic meals included)
Fiji Discovery - 1 Coconut - 4 islands | Full Monty (Basic meals included)
Summary
Location: Yasawa Islands
Duration: 9 Days
Categories: Fiji Discovery, Packages
Fiji Discovery
9 days - 8 nights - 4 islands +Activities (basic meals included)
The most popular Fiji package! Spend nine days in the stunning Yasawa and Mamanuca Islands soaking up the sun on the best beaches and enjoying crystal clear waters and the best activities the region has to offer. You'll travel aboard a high speed catamaran, hopping from one paradise island to the next for the holiday of a lifetime!
Full Monty
With the Full Monty upgrade, your coconut cruiser package will include a wide selection of the 'must do' activities on each island. This allows you to experience the full version of the suggested itinerary. If you're into activities such as diving, sailing, Fijian cooking, snorkelling, and hiking, then the 'Full Monty' is for you!
1 coconut Accommodation
The Coconut system is a unique accommodation grading system in Fiji. 1 coconut means the accommodation will be very basic. If you need a hairdryer, these are not for you. Resorts are typically located on or near a beautiful beach. Usually there is no hot water but the local water supply is tepid. Bring your own towel, soap and other necessities. All resorts are owned and run by Yasawan islanders who love hosting and sharing their lives with the guests.

Meals are included in the accommodation price and packages. Meals are simple and filling, rather than gourmet and are served at specific times of the day. (e.g. breakfast. 8am – 9am) providing an opportunity to meet fellow travellers.
After you have booked, you will be contacted by email to make your selection for where you'd like to stay from the following list of options:

Day 1 & 2
South Sea Island (Dorm)
OR
Beachcomber Island Resort (Private Lodge Room).
Day 3 & 4
Wayalailai Ecohaven Resort (Dorm or Private Lodge)
OR
Naqalia (Dorm or Bure)
Day 5 & 6
White Sandy Beach (Sunkiss Dorm or Beachfront Bure)
OR
Korovou Eco Tour Resort (Dorm or Beachfront Bure)
Day 7 & 8
Nabua Lodge (Standard Dorm or Garden Bure)
OR
Gold Coast Resort (Dorm or Bure)
IMPORTANT NOTE: Dorms are shared accommodation (usually bunkbed rooms, similar to a hostel). If you prefer private single or twin/double rooms, make sure to select this from the extras.
High Speed Ferry Transport
The transport to and between islands will take place aboard the Yasawa Flyer, and the South Sea Cruiser, both high speed catamaran ferries. Both boats are of similar design and proportions, with a seating capacity of 250+ and featuring air conditioned seating area, bar, café and outdoor areas where you can enjoy amazing views of Fiji.
Schedule/Departure times
There are different departure times from Denarau Marina throughout the day depending on where you are going. The Yasawa Flyer leaves daily from Denarau Marina at 08:30 am and returns at 5:45 pm. Occasionally Yasawa Flyer works with her sister company South Sea Cruises and they offer additional departures to specific islands which means you can often choose out of 2 to 4 different departure times throughout the day. Depending on your flight arrival time you can take the 8:30am, 9:00am, 12:15pm or 3:15pm vessel departure from Port Denarau to your first island.
Fiji Discovery Map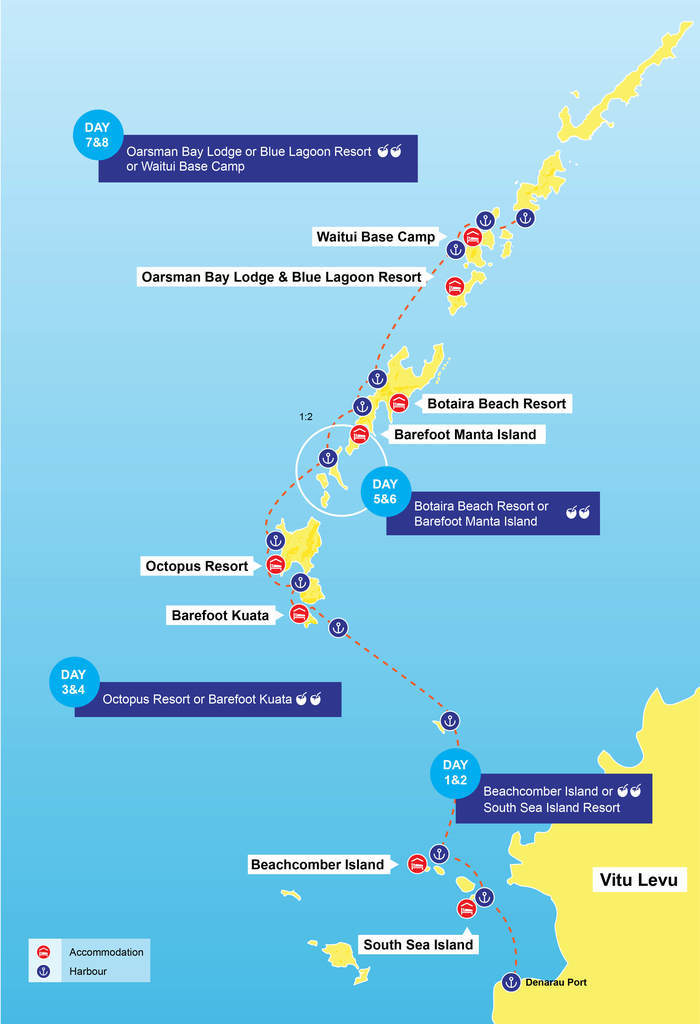 Transfers
Transfers are available from Denarau Marina, Nadi and Wailoaloa areas. Please check the map to see the free pick up/ drop off areas and timetable.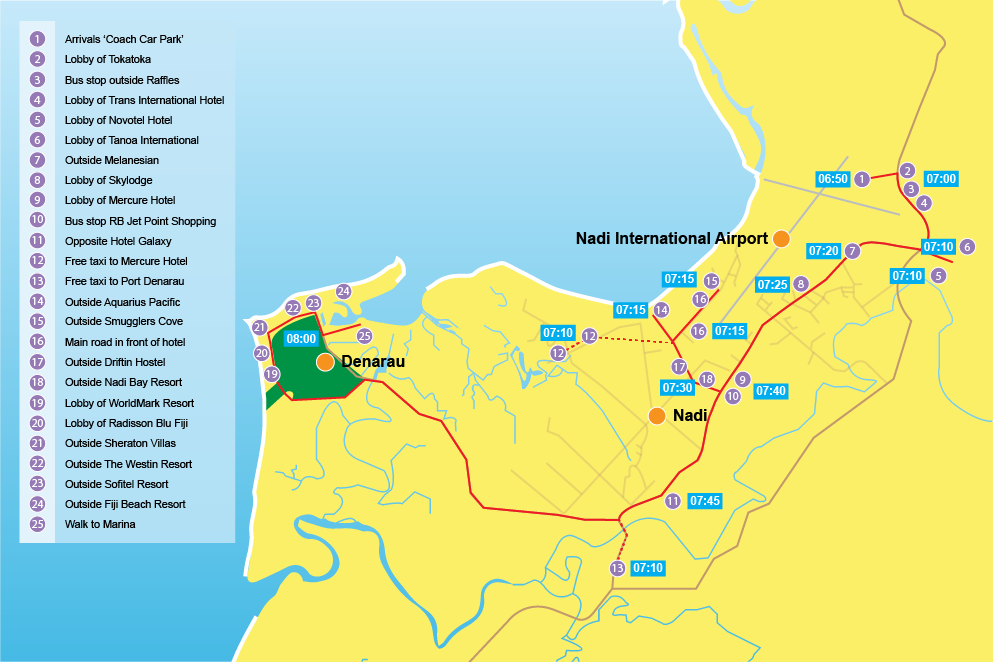 Full Monty Island Activities
With the "Full Monty" Package, the following activities are available depending on the island/resort:
Island Massage - Treat yourself to a luxurious island massage on the sand under swaying palm trees, with the soud of the tropical sea lapping at the shorline. Available at South Sea island resort (Day 1 & 2) or Korovou Eco-Tour Resort (Day 5 & 6)
Swim with Reef Sharks - A short boat ride away from the white sandy beaches of Kuata lies Moyia Reef. A spectacular site from above and below the water with an abundance of colourful fish and beautiful corals, it is also home to some friendly reef sharks. Jump in and snorkel with them. It gets the adrenalin pumping, but they eat fish not people so no need to worry! Your local guides hand feed the sharks creating amazing underwater photo opportunities. Available at Naqualia Lodge and Wayalailai Ecohaven (Day 3 & 4)
Guided Summit Hike - The Yasawa islands feature rugged volcanic peaks with summits that provide amazig views out over the surrounding islands and ocean. The best time to be at the summit is sunrise or sunset, when the secenery is at it's most beautiful and the weather less hot. Available at Naqualia Lodge and Wayalailai Ecohaven (Day 3 & 4)
Fiji Island Village Visit - All Fijians are strongly rooted to their culture, their land and their mataqali (family). Resorts offer very relaxed village tours. You'll be able to wander freely and meet many of the villagers and children as they go about their daily life. Available at Korovou Eco-Tour Resort (Day 5 & 6)
Swim with Manta Rays (seasonal) - Available from May to October, an unforgettable experience if you are lucky enough! Manta Rays glide majestically through the channel between Nanuya Balavu and Drawaqa Islands. They pass through nearly every day from May to October on the change of tide to feed. Sightings cannot be guarunteed, as these are wild sea creatures, however during the season this area offers some of the best chances in the world by far. Available at Korovou Eco-Tour Resort (Day 5 & 6)
Blue Lagoon Snorkelling - Not to be missed! The Blue Lagoon is utterly stunning. It is a large lagoon that laps at the golden sand beaches of the islands that surround it. Experience the beautiful coral and fish that swim beneath the lagoon on an unforgettable snorkelling trip. Available at Nabua Lodge (Day 7 & 8)
Explore Sawailau Caves - Considered the heart of Yasawa, these Caves are one of the 'must-do' activities for travellers visiting Fiji's spectacular Blue Lagoon. Ancient limestone formations are hidden within a picturesque little island. This activity includes a scenic boat trip up to the caves, after which you venture into the caves guided by friendly Fijians to explore the secrets within. Available at Nabua Lodge (Day 7 & 8)
Note:
Activities usually take place on the even days of your trip (2, 4, 6, et.c), and as such the above listed activities are often an either/or choice and cannot all be experienced in one intinerary (i.e., you will have to make a selection). Additionally, some Full Monty activities are available only at certain resorts so where you stay determines the specific activities available to you. In some cases, an activity may not be available - in which case an alternative and equally great activity will be offered.
Terms & Conditions:
All activity and package bookings are subject to availability. Fiji ground staff will receive your booking and reconfirm within 24hrs. Occasionally, the dates and/or times selected may no longer be available. In such cases, every effort will be made to accommodate you with a date change or alternative option. Otherwise a full refund is provided.
Cancelation Policy:
If you cancel your booking 7 days before departure, a 100% cancelation fee will apply. If you cancel 14 days before the departure, a 50% cancellation fee will apply. If you cancel less than one months before the departure, a 25% cancellation fee will apply.
If you want to change your trip:
$100 FJD for changing a booking within 24 hours before departure, $20 FJD for changing a booking with more than 24 hour notice, No charge for changing a booking with more than one month notice.
Fuel Surcharge: De to steep increases in fuel prices a fuel surcharge has been added to all products. To the Mamanuca Islands: FJ$5 Adult and FJ$2.50 Child fuel surcharge. To Yasawa (including Vomo): FJ$10 per Adult and FJ$5 per Child. These will be collected at check-in prior to departure from Denarau Marina.