Bula Combo Package | 4 nights - 2 Coconut Relaxed Resorts
Bula Combo Package | 4 nights - 2 Coconut Relaxed Resorts
Summary
Location: Yasawa Islands
Duration: 5 Days
Categories: Bula Combo Pass, Packages
5D/4N Bula Combo Awesome Pass
This Bula Combo Pass covers 2 coconut Relaxed Resort accommodation and your transport between the Yasawa islands making it a really popular option for island hopping in Fiji.
Travelling through Fiji's stunning islands is easier than ever with the Bula Combo Awesome Pass. This pass covers transfers on the Yasawa Flyer fast ferry between a selection of the 18+ Yasawa island resorts, combined with mid-range ("2 coconut") relaxed resorts accommodation. Hop on the Yasawa Flyer, which departs daily from Denarau Marina to the Islands, and explore paradise at your own pace. This Bula Combo Pass allows you to hop on and off whenever you'd like within a 5-day period (1 hop per day max).
2 Coconut Accommodation (included):
Dorms (shared) and Bures (private single/double occupancy). Generally these are more modern properties with a higher standard of accommodation and amenities when compared to 1 coconut properties, but still with a strong local Fijian vibe. Ownership and management is a mix of Fijian and European, with Fijian staff. Airconditioning or fans are available during generator operating hours. Meals (not included) are more varied with more courses & of a higher standard than 1 coconut properties.
Private bathroom upgrade: Please note, the standard private single/double rooms (Bures) have shared bathroom facilities - to ensure private facilities with your room, please select the UPGRADED private facilities from the menu while booking.

Note - Meals are not included in the 2 coconut packages. There is a compulsory meal package to be paid directly to your resort at check-in. Meals are served at specific times of the day (e.g. breakfast 8am – 9am) providing an opportunity to meet fellow travellers. The average price per day for meal packages is around FJ$100 (US$50 - note; cash is not accepted), covering breakfast, lunch and dinner.

Simply select your preferred accommodation type in the options when making your booking.
How it Works
Once you have booked this Bula Combo Pass we will send you an immediate confirmation.
Our local representative will contact you within 24hrs to arrange your island hopping itinerary and accommodation (the first stop and 2 nights accommodation must be confirmed well in advance of your departure date).
Reservations for free airport/hotel transfers to the harbour (see transfers tab) need to be made more than 24 hours in advance through the number on your e-ticket.
Your Bula pass will be activated on the first day of travel.
At check-in you will receive an Awesome Yasawas Guidebook to help you pick the islands and accommodation for the rest of your trip, if you have not already done so. Note: accommodation is subject to availability. If you have not reserved accommodation before arriving at an island, you will not be allowed to disembark the boat. For last minute reservations there is a travel desk on board the Yasawa Flyer.
Please note: Some resorts are very popular so booking your accommodation in advance is advised. It is essential to book your first island before departure, you will be contacted regarding this. Some properties may have a minimum 2 night stay policy.
Map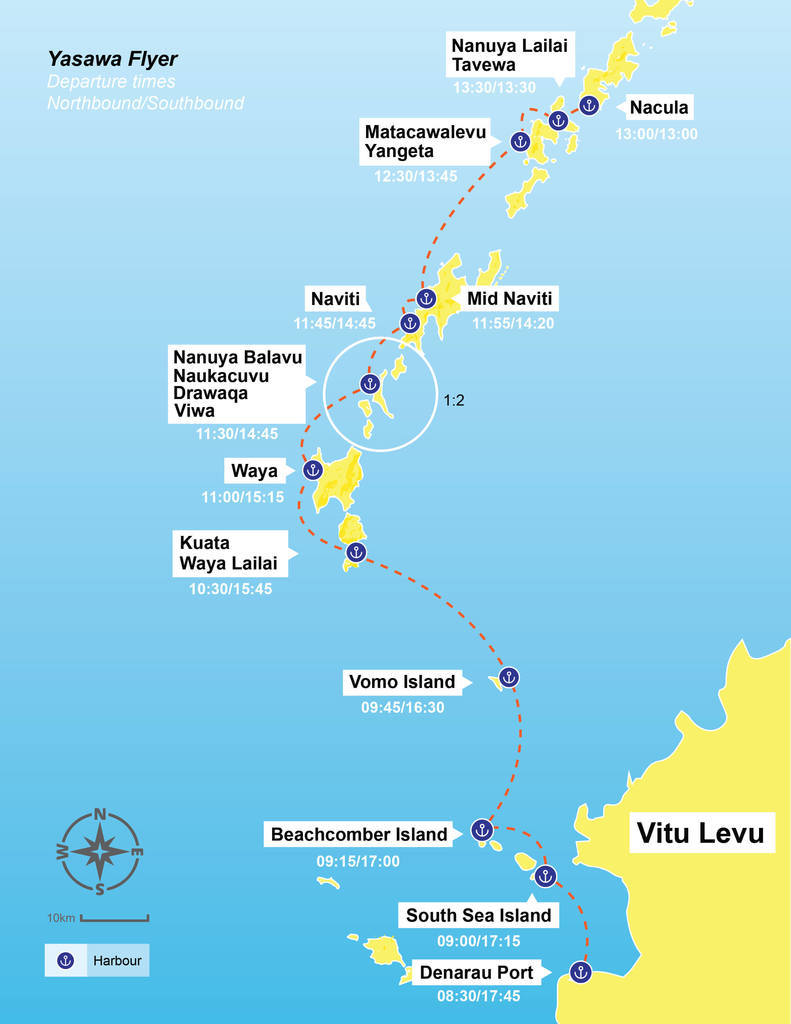 Schedule
Journey times between departing Denarau Marina and the Yasawa Islands:
Approx. 2 hour trip: Kuata Island, Wayalailai Island
Approx. 2,5 hour trip: Waya Island
Approx. 3 hour trip: Viwa Island, Naukacuvu Island, Nanuya Balavu Island, Drawaqa Island
Approx. 3,5 hour trip: Naviti Island
Approx. 4 hour trip Yaqeta Island, Matacawalevu Island, Nacula Island
Approx. 5 hour trip Nanuya Lailai Island, Tavewa Island
Time between departing Denarau Marina and the Mamanuca Islands:
Approx. 30 minutes/1 hour trip: South Sea Island, Bounty Island, Treasure Island, Beachcomber Island and Vomo Island.
Transfers
Awesome Adventures provides a free daily complimentary coach transfer from Nadi International Airport and Nadi, Wailoaloa and Denarau area hotels to Denarau Marina. You must book your coach transfer in advance. During the booking process, simply tick the transfer box underneath your passenger info and your request will be registered. You will be contacted in advance for details. Important: If you do not book your coach transfer in advance, getting to Denarau Marina is your responsibility and at your own costs. Upon return to Denarau Marina, Awesome Adventures has a transfer coach departing at 6pm to drop off at Nadi International Airport, hotels and resorts.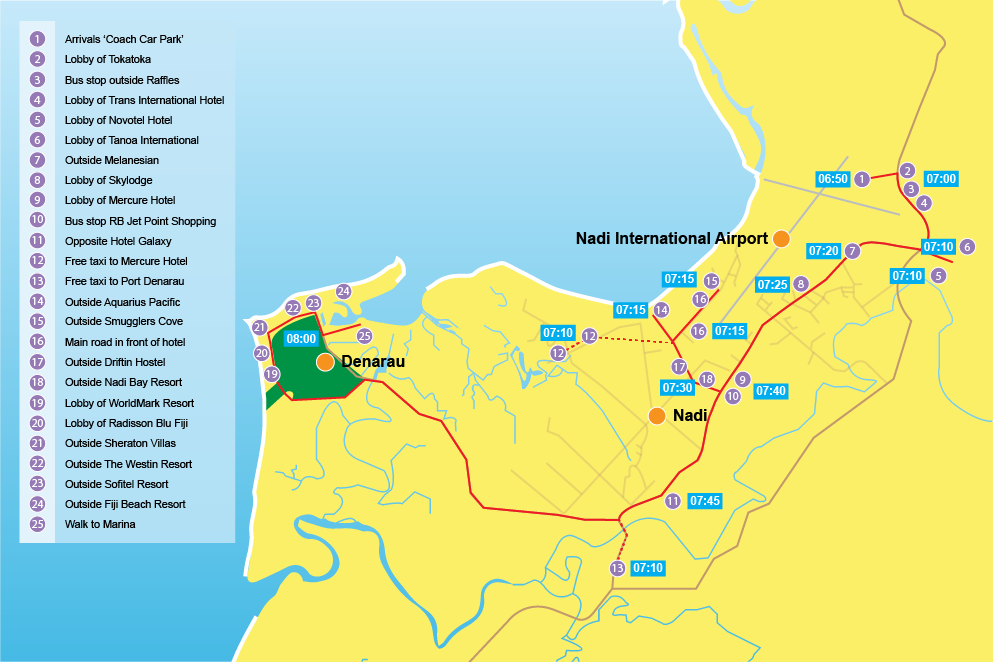 2 Coconut Relaxed Resorts
The following island resorts are available to stay at with the 2 coconut relaxed resorts Bula Combo Awesome Pass:
South Sea Island (Dorm or Bure)
Beachcomber Island Resort (Grand Dorm or Private Lodge)
Barefoot Kuata Resort (Dorm or Beachfront Safari Bure/Garden Bure)
Octopus Resort (Dorm or Bungalow - Shared Facility)
Mantaray Island Resort (Dorm or Treehouse Bure - Shared Facility)
Blue Lagoon Beach Resort (Dorm or Bula Lodge Room - Shared Facility)
Barefoot Manta Resort (Dorm or Sunrise Beach Bure)
Botaira Beach Resort (Dorm)
Upgraded Relaxed Resorts
If you want to be sure of private bathroom facilities with your single or double occupancy room, select the upgraded option from the menu when making your booking. The following resorts will then be available to select for your island stays:
Blue Lagoon Beach Resort (Garden Villa)*
Mantaray Island Resort (Jungle Bure)*
Octopus Resort (Garden Bure)
Beachcomber Island Resort (Private Lodge Room)
Oarsmans Bay Lodge (Oceanview Room)*
Barefoot Kuata Resort (Beachfront Bure)
Barefoot Manta Resort (Beachfront Bure)
South Sea Island (Beachfront Bure - double only)
*= room with a/c
General Information & Booking Conditions
All activity and package bookings are subject to availability, so we advise booking as far in advance as possible. Fiji ground staff will receive your booking and reconfirm within 24hrs. Occasionally, the dates and/or times selected may no longer be available. In such cases, every effort will be made to accommodate you with a date change or alternative option. Otherwise a full refund is provided.
Passes are valid for the period shown on your Bula Pass.
You are allowed one 'hop' per day.
Normal fare will be charged for traveling outside the date of your Bula Pass.
The Bula Pass can be extended anytime before the end date written on it at the Travel Desk on-board the Yasawa Flyer.
Your Bula Pass will have a photo ID card and using the card of someone else will not be tolerated.
Please note: Some properties may have a minimum 2 night stay policy.
Bula Combo Pass Cancellation fees apply only to any pre-booked accommodation
No Show – 100%
Less than 7 days notice - 100%
Less than 14 days notice - 50%
Less than one months notice - 25%
Amendment Policy
Any change within 24 hours of travel will incur $100 FJD amendment fee.
Any change before 24 hours of travel will incur $20 FJD amendment fee.
Amendment fees will be added to any possible fees applicable to the resorts.