Seaspray Sailing Adventure Day Trip | South Sea Cruises
Seaspray Sailing Adventure Day Trip | South Sea Cruises
Summary
Location: Mamanuca Islands
Duration: 9 Hours
Categories: Tours and Day Trips
Seaspray Day Adventure Full Day Cruise
A full day on the magnificent waters of the Mamanucas. This sailing cruise includes visiting an authentic Fijian village as well as visiting the Modriki Island known from Tom Hanks movie 'Cast Away'. Board this 15 metre yacht at Mana Island (transfers to and from Mana Island are available) to sail through the islands, first arriving at Modriki Island.
After Modriki, you will head to Yanuya Island. On Yanuya Island you will be able to visit an authentic Fijian village. You will be welcomed with a Kava ceremony (except on Sundays) and then have a chance to explore and meet the locals.
Food and Drinks
South Sea Cruises have included a morning and afternoon tea as well as a magnificent barbecue lunch. Wine, beer, soft drinks, tea and coffee are included too!
Seaspray Sailing Route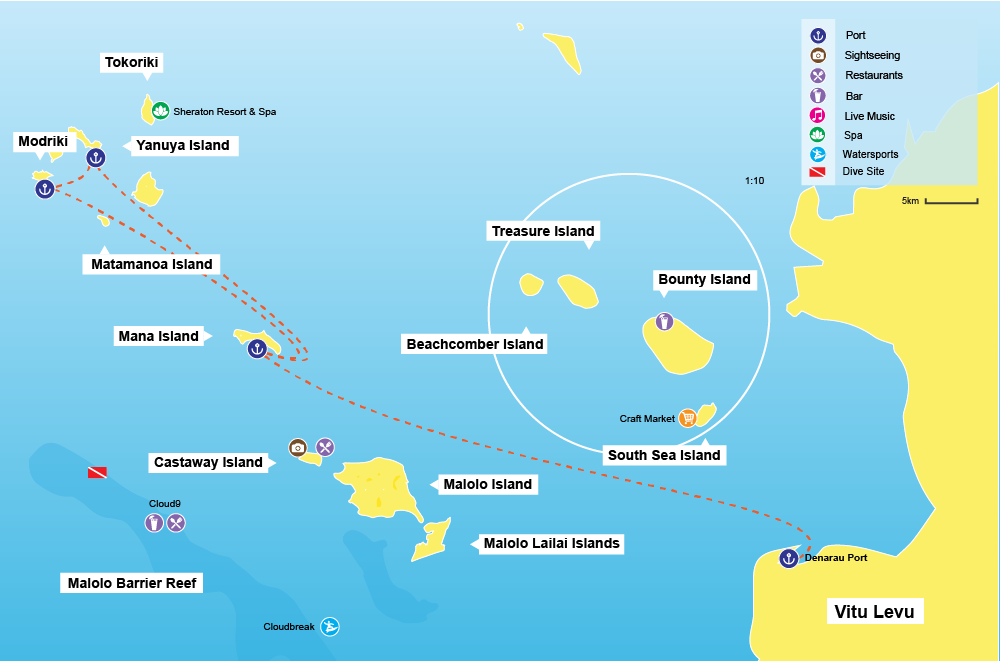 Daily Departures
| | | |
| --- | --- | --- |
| Departure Point | Departure Time | Return Time |
| Denarau Marina | 09.00 AM | 6.00 PM |
| South Sea Island & Bounty | 09.30 AM | 5.30 PM |
| Beachcomber & Treasure | 09.45 AM | 5.15 PM |
| Mana Island | 10.30 AM | 4.30 PM |
| Matamanoa Island | 11.00 AM | 4.00 PM |
Coach transfers
Transfers from Nadi International Airport and most Nadi area hotels are available free of charge.
You must however book your coach transfer in advance.
If you would like a transfer (hotel or airport pickup/drop off), this can easily be arranged after booking. You will receive an email regarding the possibilities within a few days. If you are booking this at short notice, you will find a contact number to organize transport with on your
e-ticket
.
Important:
If you do not book your coach transfer in advance, getting to Denarau Marina is your responsibility and at your own costs.
Coaches meet each vessel arrival at the marina.
For more information, times and the nearest pick-up location to your hotel, please have a look at the transfer map.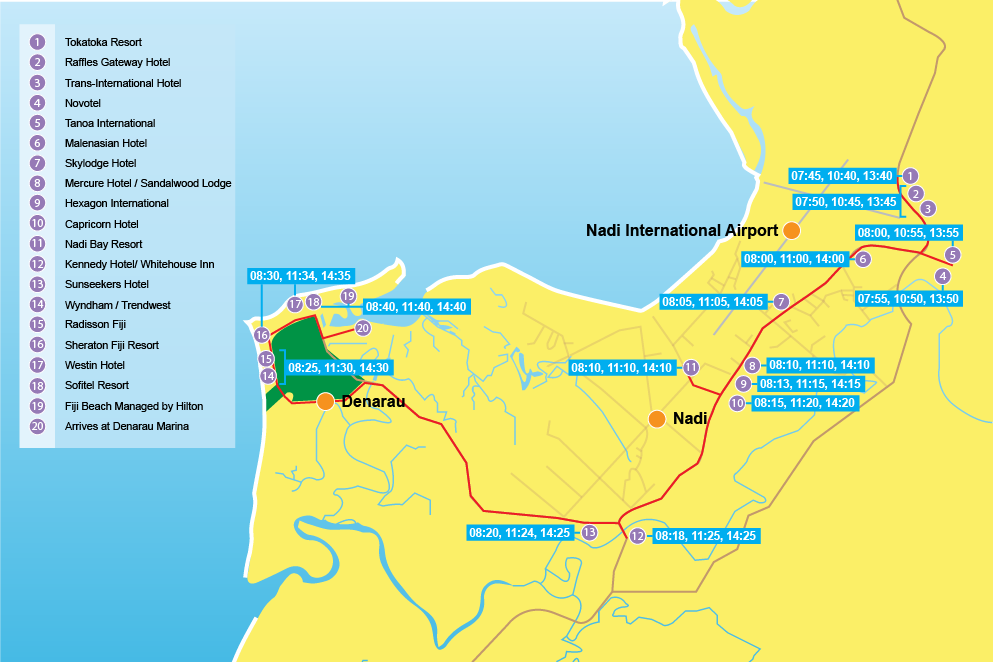 PLEASE NOTE: All activity and package bookings are subject to availability. Fiji ground staff will reconfirm your booking within 24hrs. Occasionally, the dates and/or times selected may no longer be available. In such cases, every effort will be made to accommodate you with a date change or alternative option. Otherwise a full refund is provided.