3 Coconut Accommodation Upgrade (per island - on request only)
3 Coconut Accommodation Upgrade (per island - on request only)
Custom 3 coconut upgrade to package accommodation
Upgrading your accommodation on any island (where available) in your existing 1 or 2 coconut package booking is possible upon request basis only. We will send you details and a quote and then provide confirmation direct to you.
Please note:
You must first have selected and booked from among the package options in the
overview
, following which you can
contact us
for island upgrades. Compulsory meal packages must be purchased upon arrival at the resort.
3 Coconut Accommodation Options
The following Yasawa island resorts offer 3 coconut luxury accommodation. Please note, all are a minimum 2 night stay and can only be booked on request basis after having booked any of the relevant 1 or 2 coconut island packages. Please contact us for further information and rates.
Octopus Resort - Waya Island
A Fijian resort with a modern design, surrounded by a beautiful coral reef, set on one of the largest islands in the Yasawas. Offering a selection of 3 coconut villas, available on request.
Paradise Cove - Naukacuvu Island
Boasting beachfront Villas and Paradise suites, this new resort in the Yasawas has a design that captures the essence of Fiji, yet in a modern fresh style. The central area is superb with an open air bar and swimming pool set behind the sandy beach.
Mantaray Island Resort - Nanuya Balavu Island
Offering Beachfront Villas nestled along a peninsula between two idyllic golden sandy beaches, with stunning views across the channel to surrounding islands.
Viwa Island Resort - Viwa
A unique location well away from the other islands, creating the amazing sensation of being surrounded by nothing but beautiful crystal clear turquoise waters, broken only by the waves on the surrounding coral reef. Offering Deluxe and Executive beachfront Bures.
Vomo Island Resort - Vomo
Beachfront Villas in a luxury private resort located on one of the most stunning islands in Fiji. Long white sandy beaches and pristine waters ideal for snorkelling, diving, kayaking, paddle boarding and swimming.
Navatu Stars - Yaqeta Island
Offering Grand Bures along three small tranquil beaches in a secluded spot on the tip of Yaqeta Island, close to the southern end of the Blue Lagoon. This resort is styled in an Italian luxury vibe.
Nanuya Island Resort - Nanuya Lailai
Villas overlooking the stunning and famous Blue Lagoon. A well-maintained resort, its proximity to the famous Sawa-I-Lau Caves give it extra special charm.
Natabe Retreat - Tavewa Island
The ultimate getaway to a tropical island private home in absolute seclusion. Discreetly located on the western tip of Tavewa Island, Natabe Retreat is a unique holiday opportunity boasting exclusive use of a beautiful home in a secluded coconut grove by the sea. Limited availability!
Coconut Beach Resort - Tavewa Island
Beachfront Villas located in the spectacular Blue Lagoon region of the Yasawas, this resort is famous for it's Fijian hospitality.
Blue Lagoon Beach Resort - Nacula Island
Boasting Villas along the beautiful, tranquil lagoon of Nacula Bay, looking out over the famous Blue Lagoon. Modern accommodation with a Fijian flavour, a superb location and friendly service.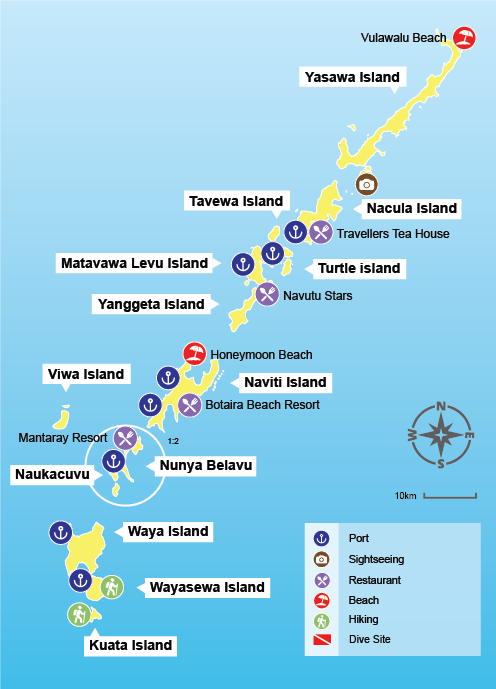 Summary
Location: Yasawa Islands
Duration: 1 Day
Categories: Multi-island packages
Check availability